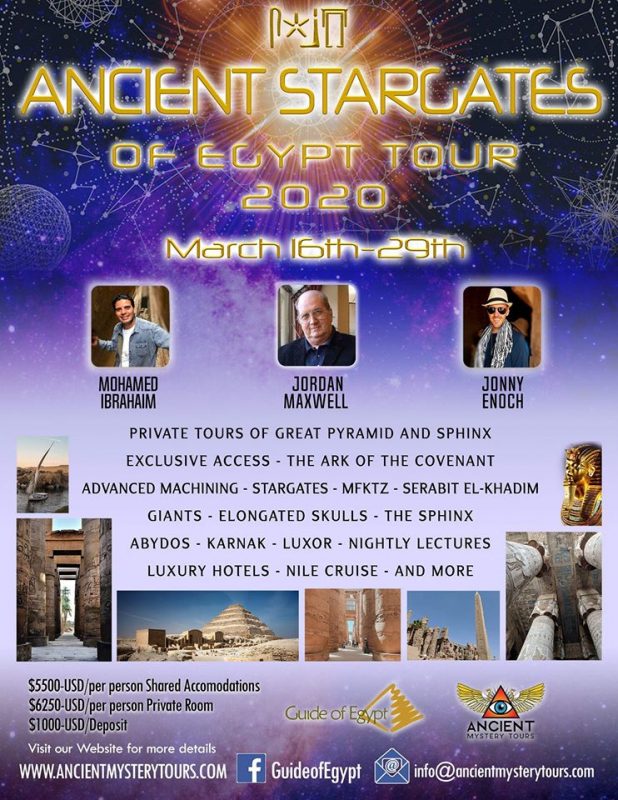 Written by Jonny Enoch
HAVE YOU EVER DREAMED OF TRAVELING TO EGYPT?
Don't miss this exciting once in a lifetime opportunity to explore the heart of the mysteries. Join Jonny Enoch and legendary Egyptologist, Mohamed Ibrahim, on this amazing adventure.
INCLUDED IN PRICE: HIGHLY EXCLUSIVE PERMISSIONS, NIGHTLY LECTURES ON ESOTERIC TEACHINGS AND EGYPTOLOGY, COMPLIMENTARY SIM CARD WITH DATA FOR YOUR PHONE, LUXURY HOTELS, NILE CRUISE AND MORE. EARLY BIRD DISCOUNTS AVAILABLE UNTIL SEPTEMBER 15TH FOR THOSE THAT GET THEIR DEPOSITS IN NOW!
Day 01Cairo Steigenberger – Monday, March 16th
Upon arrival to Cairo airport, you will find our representative waiting for you to help you through the formalities, help you to get the entry visa and drive to your hotel and help you to get your room. At 06:30 PM we will have a meeting for introductions, followed by a Welcome Dinner together. Overnight at Steigenberger Tahrir. (D)
Day 02 Cairo Steigenberger – Tuesday, March 17th
Visit the Egyptian Museum. Overnight Steigenberger. (B.L)
Day 03 Sinai – Wednesday, March 18th
Drive to Sinai, where we will visit one of the most sacred sites in Ancient Egypt, Sarabit El Khadiem, there we will go to Mount Horoub to visit Hathor temple, lunch and drive back to Cairo. Le Meridien Pyramids. (B, L)
Day 04 Sakkara& Dahshur – Thursday, March 19th
After breakfast we will visit the most famous monument in Egypt, Giza pyramids, we will explore around the Great pyramid and then drive to the 02nd pyramid where we will visit the Mortuary temple and Valley temple. From inside the Valley temple, we will inter a short cut to the Sphinx. After lunch, we will have the chance to visit one of the centres of the essential oils in the area. Overnight at Le Meridien Pyramids. (B.L)
Day 05 Cairo-Abydos – Friday, March 20th
After breakfast, we will drive to Dahshur to visit the Bent & Red pyramids and entre the Red pyramid, Lunch at Sakkara palm club, and then we drive to Saqqara, home of the Step Pyramid attributed to King Djoser. We will visit the mystical Serapeum, a huge subterranean complex.  Overnight Le Meridien Pyramids. (B.L)
Day 06 Luxor – Saturday, March 21st
Fly to Sohag, after arrival we drive to Abydos (about one hour). Abydos was a very important city for the Ancient Egyptians, it is where they used to do the pilgrimage every year, it is the city of Osiris the lord of the afterlife, we will visit Abydos temple and also we will see a unique structure called the Osirion temple, it was built in a lower level of the ground than Seti I temple, Egyptologists think it is a memorial cenotaph to Osiris. Lunch and overnight at House of life hotel. (B.L)
Day 07 Nile Cruise – Sunday, March 22nd
After breakfast we will drive to Dendera city where we will visit one of the giant temples of Ancient Egypt, the temple of Hathor, Hatour deals with vibrations and resonance and also is considered as one of the gates or portals to the high conciseness. Temple of Hathor was one of the main healing centres in Ancient
Egypt. The carvings of the ceiling of Hathor temple according to many scholars it represents the cosmos. Drive back to Luxor, we will have lunch at the Nile, in the afternoon we will visit Luxor temple.  Dinner and overnight at Steigenberger Luxor. (B.L)
Day 08 Nile Cruise – Monday, March 23rd
After breakfast we drive to the West Bank of Luxor where we will spend a great day visiting different sites 1- Valley of the Gates of Kings or as we call it Valley of the Kings. 2- The unique temple of Queen Hatshepsut and visit the side temple of Hathor. 3- The Colossi of Memnon which used to be flanking the first gate of Amonhotep III temple, and then we'll drive back to the Nile Cruise, we will have lunch and relax then we will have time for shopping before our evening visit to the Luxor Temple (B.L.D)
Day 09 Nile Cruise – Tuesday, March 24th
Visit Karnak Temple, where we will spend the entire morning after an early breakfast. We will visit the powerful Chapel of Sekhmet, drive back to the boat & sailing (B.L.D)
Day 10 Nile Cruise – Wednesday, March 25th
In the morning we will ride a horse carriage to visit Edfu Temple dedicated to Horus temple. At sunset, we will stop at Kom Ombo, where we'll visit the twin temples dedicated to the crocodile Neter, Sobek and Horus, the Elder. Sailing to Aswan.  (B.L.D)
Day 11 Aswan –Thursday, March 26th
We will take a motorboat to the enchanting Island of Philae, we will explore the famous Aswan quarry that is home to the 1,200-ton Unfinished Obelisk. After lunch, we sail with a motorboat to visit Elephantine Island, and we will sail to the Nubian Village (B.L.D)
Day 12A swan – Friday, March 27th
Fly to Cairo, and free day. Could be a perfect day to visit the famous never sleeping, Cairo Market. Overnight at Le Meridien Pyramids 5* (B.B)
Day 13Giza – Saturday, March 28th
After lunch we visit Giza Plateau at 16:00 to do a private visit to the Sphinx enclosure and at 18:00 we do a private visit the Great Pyramid, then farewell dinner (B.D)
Day 14 Giza – Sunday, March 29t
Departure (B)