C.L.E.A.R

Freedom Rally
Join us at our next rally, Saturday, August 1, 2020, 12:00 noon at Stuart Park in Kelowna.
August 1, 2020
Freedom is a multi-generational investment!
In an article in today's Vancouver Sun, Health Minister Dix had this ominous quote attributed to him:
"As we approach our B.C. Day long weekend, let's acknowledge right now that it can't be like any B.C. Day long weekend we've ever had.  This is our first B.C. Day celebration in our B.C. new normal."

"Use 'Covid Sense' to stop the spread and stay safe"      Van. Sun July 27, 2020  p. A11 
Reading between the lines provides a frightening glimpse into the future: ie: this intolerable situation is permanent and will never end, with or without a vaccine.
Meanwhile, alleged reporter Sarita Patel of Castanet did an interview with local employee Grace Anderson who found our brochure in her building. She bemoaned our activities claiming we were wrong, with no specific references of course to support her. Castanet continues to refuse to interview us, on the basis that they do not support our position.
It is clear that investigation reporting has been abolished in favour of government supported propaganda only.  Truth or correctness has no relevance anymore.  In fact, it should be "Truth or Consequences" should be the norm for these reporters and media who simply parrot the prepared statements of government officials. Breaking through the corrupt MSM, is one of the hardest things we have to achieve.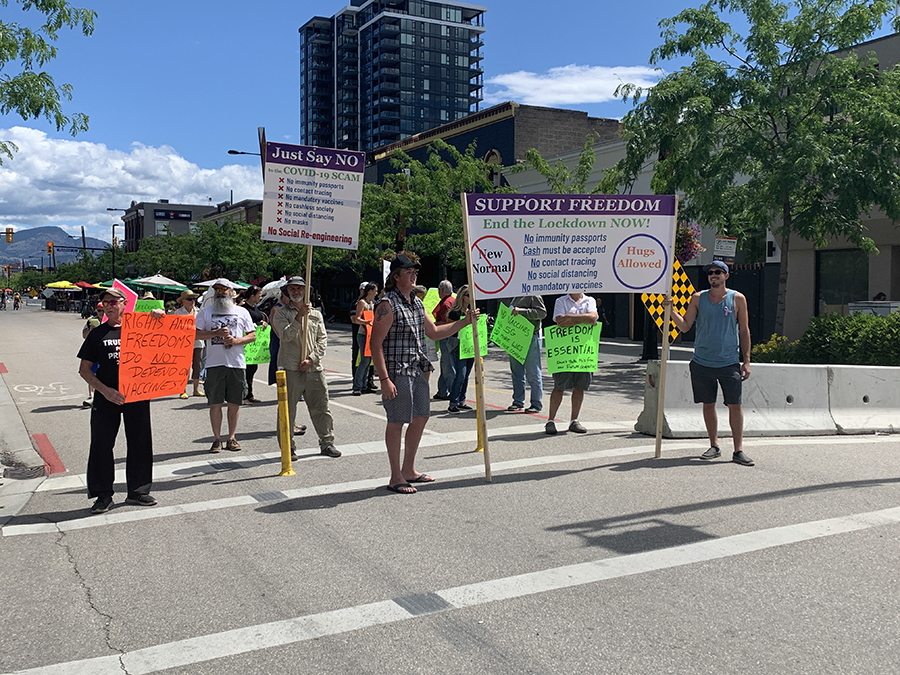 Join us at our next rally, Saturday, August 1, 2020, 12:00 noon at Stuart Park in Kelowna.
Hundreds of people have joined us in past months.
The solution is to publicly ignore all Gov't recommendations and live life normally.  Period. As much as possible, do not wear masks, no social distancing, and pressure companies and staff to do likewise. Educate friends and families.  Take pride in our knowledge, our common law and sacrifices for freedom, and join our Rallies!!!
The new normal IS: 
Live normally and say NoNew Normal!
Email us at:  clear2012@pm.me for more details and facts.