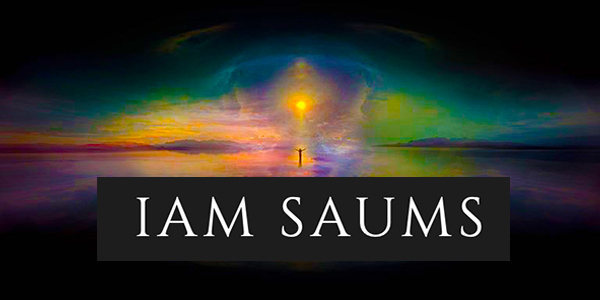 iamsaums.com
Beyond the Threshold
by Iam Saums
"The difference between kneeling and standing is empowerment."
Upon Reflection
As I was writing the final paragraph of my previous article, "Written in the Stars," I realized it may be my last.  In the years I have been publishing articles, I have rarely experienced a block, rut or a lack of inspiration.  Fortunately for me, there has always been a creative energy flow guiding my fingers.  Yet, I became present to the common, elementary level of comprehension contemporary society exhibits.  Being conscious to this dynamic was incredibly disempowering.  For fleeting moments, it challenged my passion to translate universal understanding into earthly experience.  This article is an expression of the universal empowerment sourced from breaking through the personal barriers of static perception. 
The Forest for the Trees
Recently, I had a conversation with my friend Lorenzo Malowane of "The New Agora/The New Now."  As we both shared our experiences with publishing alternative information, I observed society is mired in a pyramid-scheme paradigm.  Another friend sent me a link to a new website that had all the "usual suspects" of metaphysics and spirituality.  Chances are you have seen them. Perhaps you have even taken their online courses, read their books, "follow" them on social media, watch their YouTube videos and attempt to practice their individual interpretations of an idyllic, spiritual lifestyle.  Enlightenment that one does not discover, explore and establish for oneself is simply a cult.
Social Paradox
For as much as we do not want to be told what to do, we eventually abandon our personal power.  Whether it is the impressions passed from our parent/relative, preacher, teacher, politician, employer, spouse, friends or associates, the hypocritical paradox of artificial, social belonging consumes our creativity.  Authoritarian entities and organizations are successful at coercing us into acquiescence, simply because they have enacted this paradigm of control, of which we enable with our participation.  They give us the illusion of free will.  Yet, we are aimlessly and helplessly reliant upon the dualistic design of social reality.  We are willing to be manipulated due to our apathy, fear, lifestyle preoccupation and absence of self-trust.
The New Paradigm
In our conversation, Lorenzo asked if I had any ideas about how to shift the common paradigm of social comprehension.  In that moment, something inspired me.  A recollection came from our last New Agora/Autodidactic interview "Communicate Your Freedom," regarding listening being the essence of communication.  Being heard, valued, and through this experience, ultimately empowered.  In my perspective, it is not about telling people what to do. We all know how effective that practice has been throughout the course of human history!  It is about empowering others to create and manifest their own unique expression of destiny.
"We all need to express our universality into being."
The New Era
Ten years ago, during the Winter Solstice, a universal energetic shift began.  It was the completion of a twenty-six-thousand-year cycle, and the beginning of a new era.  Since then, we have all been shifting into universal experience, whether we are present to it or not!  When the "Plandemic" occurred, (yes it was planned!) it was a multifaceted, energetic distortion and diversion to prevent the ascension and progression of our personal consciousness, which would empower us to transcend the duality of social reality and become an expression of universality.  (Read this sentence again!) The fulfillment of how the new era exists in our experience is empowered by who we choose to be.
Face the Music
We are provided infinite opportunities to face our dramas, fears, inadequacies and traumas; navigate through them, glean the benefits of the experiences, and release the rest. (Which is what we need to be doing right now!) Yet, it is much more than just acknowledging, accepting and knowing their purpose.  It is all about understanding. Once we move through them with a conscious heart and a keen intuition, our challenges only persist if we remain attached to them through our instinctual, intellectual and emotional dependencies.  Sure, we can hold on to our hurt, be right and in pain and covet our suppressed agony like our forsaken innocence.  However, as present as we are to our experience is as empowered as we are to heal.      
The Power of Empowerment
When we align our body, mind and heart with our intuition and soul, we are empowered by the universe.  Being centered, grounded and present to the source is an omnidimensional, energetic experience.  This is the true power of empowerment.  In every moment, we have the opportunity to relate with our universality.  Beyond the trivial happenstance of ordinary existence, an abundance of extraordinary experiences is ever evolving within the expression of our creativity.  (Be with this!) Shifting our focus of awareness from the constant imposition of social reality empowers us to embrace the universal with every conscious breath.  Choosing to be an expression of our soul transforms our experience.
Beyond the Threshold
All of us are on the threshold of our personal empowerment.  We have been shifting into the flow of universality for over a decade.  Our social perception cannot comprehend the transcendent insights of our universal being.  Understanding is the gateway to experience.  It is impossible to describe universality with words. This is a unique encounter for each person.  However, the commonality we all share is our relativity with our soul.  We all now stand upon our personal threshold, peering into the great mystery with curiosity, hope and wonder.  Beyond our fear of the unknown awaits the realization of our universal being.  Embrace and become the shift of its empowerment!
"Beyond the threshold of our humanity, we are all one with the universe."