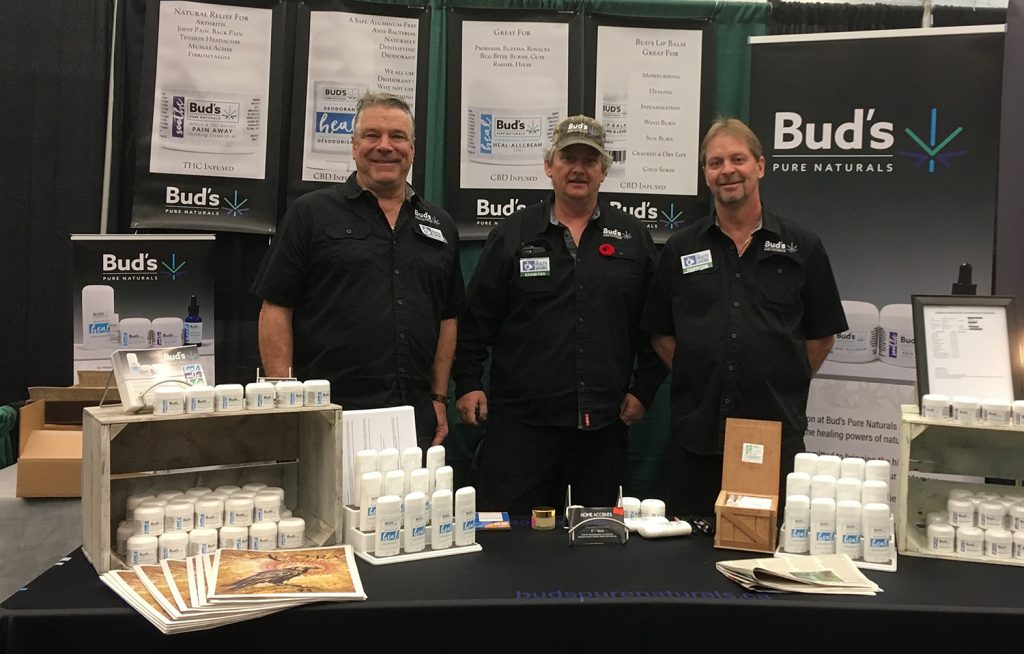 The Bud in Bud's Pure Naturals
By Laurette Anderson
Who is the Bud behind "Bud's Pure Naturals"? Or is it just a clever play on words?
Well there really is a Bud behind the company, and a Robin too. Both of whom I had the pleasure of speaking with this week. Their sincere desire to share the healing benefits of the cannabis plant with the world comes from a very personal experience: their father was diagnosed with lung cancer. This was five years ago, so their motivation to find something effective was tantamount to saving their father's life. They put their father onto a regimen of CBD medicinals with full faith in their efficacy and it worked. Their eighty-five year old father is living proof that cannabis cures cancer. Thus their desire to share what cured their father with the world was ignited.
Not long after starting the business, Bud was at a local health show where he met an individual who was into making topical creams and lotions, and, after an exploration of joining the two together, decided this was the way to go. Bud began creating topical creams with CBD (the healing property of hemp), and the results were stunning. Their products have gained great popularity and a loyal following of people who have had issues with chronic pain, and also people who have had skin issues such as psoriasis and rosacea.
Since then, a tidal wave of testimonials has ensued. One of these products has seen fantastic results in healing psoriasis. The fact that it cured Robin's wife's psoriasis convinced him to partner up and buy into the business venture. Bud and Robin have multiple feel-good stories about their clients' experiences with their Heal All Cream. They spoke of one client who for most of his life wore a cap not because he was bald but because of his unsightly skin condition. A couple of weeks after using the cream Bud was invited to meet him for lunch and to his surprise the cap was gone. The client said it's the first time he's been cap-free in many, many years. When your clients have stories like this and a smile from ear to ear when they meet up with you, well, it's the biggest motivator there is! Robin and Bud kept going producing effective medicinal products that now include a deodorant and a lip balm too, all with zero harmful ingredients. The concept of applying a CBD deodorant to the underarm is such a brilliant idea as this is where lymph nodes reside. Regular deodorant and antiperspirant products from the usual grocery or drug store outlets commonly contain harmful ingredients such as aluminum. Imagine that: your lymph nodes absorbing aluminum.
Pain Away is their secret weapon; potent and genuinely effective (I can say this as I have watched my husband smile as his chronic and constant back pain faded away while I massaged it in). This cream cannot be advertised yet on their website. You will have to ask them for details on obtaining it as it is the one product that Health Canada won't certify due to the THC content. Authorities are of course still in a conundrum as to how they can get their cut of the profits from truly effective pain products that come from a plant whose patent they don't own. So we wade through their bureaucracy to create, sell, and on the other side, even obtain, these great antidotes to chronic conditions. Hemp has a larger CBD component for healing and the plant is legal to grow and use. Bud and Robin use only organic, locally sourced hemp which is a rarity at this point in time and they pay more for it as a result.
Where integrity is a forgotten concept for most popular brands of creams and body products (and the big chain stores that supply them), this small but growing company creates each product with integrity. All components of the products are Canadian made, from the hemp to the packaging. If you want to discuss the products after you've bought them, the creators are easy to reach. Consumers should be able to reach those who own the company creating the products they buy. And yet this is a foreign concept in our consumer society. We blindly buy, without knowing the who, behind the company. Let's face it: there are only a handful of companies that own most of the drug store products that stock your bathroom. They're global. They're corporate. And they don't care about you.
Along the way, these friendly, sociable and good natured guys found out about their banker's family member's health challenges. They offered to help because that's their nature. When the banker realized Heal All was working on their loved one's skin condition, she moved forward with assisting with the internet Global Services portion of the online business. When good intentions meet up with good people anything can happen. Even banks are occasionally made up of individuals with integrity.
If you want to support integrity and herbal products that are pure and natural with no harmful ingredients, then vote with your dollars. We all have the power to change the world with our wallets. If you want to meet the Bud (and Robin) behind "Bud's Pure Naturals", come down to the LIFT event in Vancouver this month-Feb 13th-14th.