Want to know the unvarnished scientific truth about the looming dangers of 5G wireless technology now heading our way, and what we can do about it? Then come see and hear Martin Pall, PhD, Professor Emeritus in Biochemistry and Basic Medicine from Washington State University, one of the world's leading scientific experts on the real biological effects of radiation from cell phones, WiFi and 5G between June 24 and July 7, during his public education speaking tour on Vancouver Island and in the BC lower mainland. For more info, go to: www.CETH.ca
About Us
The Community Empowerment Town Hall Series represents a non-partisan initiative led by a group of British Columbians who have joined together in a common concern over the harmful impacts today's wireless communications technology on both our biological health and on the health of our larger natural environment.
Our aim is: (1) To educate our fellow citizens about the latest independent (non-corporately sponsored) science in this regard, and to help grow this awareness; and (2) to suggest practical steps individuals can take within their own local communities to exert political pressure on local, provincial and federal elected officials, as well as local health care providers (i.e. hospitals), school boards, universities and telecom providers to adopt safer and more scientifically rational evidence-based regulatory policies and practices; and methods through which they can be held accountable if they fail to do so.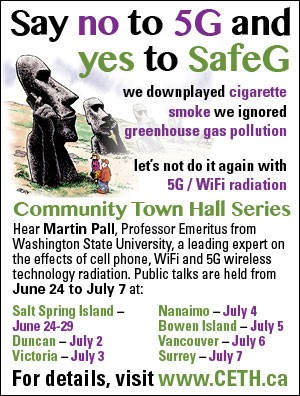 Events
Come listen to Martin Pall, PhD, Professor Emeritus, a leading expert on the biological effects of radiation from cell phones, WiFi and proposed wireless technology. He will be giving public talks on this topic from June 24 to July 7. You can download and share this PDF poster with your network of friends.
Salt Spring Island, BC
June 26 – 7:00 – 9:00 pm
Gulf Islands Secondary School, 232 Rainbow Road
June 29 – 10:00 am – 2:00 pm
Let's Connect Salt Spring Community Fibre Network
Saturday Market, Fulford-Ganges Road
Coordinator: cpetraot _at_ shaw.ca
Duncan, BC July 2 – 7:00 – 9:00 pm
Duncan United Church
246 Ingram Street
Coordinator: dorotheasiegler _at_ gmail.com
Victoria, BC
July 3 – 7:00 – 9:00 pm
Emmanuel Baptist Church, 2121 Cedar Hill Cross Road
Coordinator: 5G _at_ camelot-connection.com
Nanaimo, BC
July 4 – 7:00 – 9:00 pm
St. Peter's Church Hall,
301 Machleary Street (enter on Fitzwilliam)
Coordinator: Safelywired _at_ shaw.ca
Bowen Island, BC
July 5 – potluck at 5:30 pm
Presentation from 7:00-9:00 pm
Cove Commons at the Bowen Island Library
430 Bowen Island Trunk Road (walking distance from ferry terminal)
Coordinator: info _at_ hempcrete.ca
Vancouver, BC
July 6 – 3:00 – 5:00 pm
Canuck Family Education Centre,
1655 William Street, Second Floor, off Commercial
(12 short blocks north of Commercial Sky Train Station)
Coordinator: ph_lemay _at_ yahoo.ca
Surrey, BC
July 7 – 2:00 – 4:00 pm
Elgin Hall
14250 Crescent Road
Coordinator: Swalker3 _at_ shaw.ca
Time and Location details: Some presentation venues are still being finalized and will be posted as soon as they are confirmed. These details will also include local contacts. (updated: June 21, 2019)
Who is Martin Pall?
Martin Pall, PhD is a Professor Emeritus in Biochemistry and Basic Medical Science from Washington State University and is one of the planet's leading experts on the health effects of wireless radiation on human health. In April 2015, Pall began to receive wider notoriety within the scientific and political community when he presented evidence that contradicted Health Canada's "Safety Code 6" standard, one premised on a thermal heating of living tissue rather than on any of its cellular function effects. His piece appeared in the Reviews on Environmental Health (see).
Dr. Pall's article represented a watershed moment in delegitimizing the overall findings of the House of Commons Standing Committee on Health in its comprehensive 2015 review of the effects of radio-frequency radiation on living systems, which included Safety Code 6. Many within the scientific community were dismayed with both the Health Committee's report in June of 2015, and the later response by the new Minister of Health, Jane Philpott, when no significant action was taken to tighten the restrictions on EMFs from cell phones, WiFi and other wireless technology despite clear scientific evidence suggesting that a diminution of exposure levels to these kinds of EMFs was warranted. This sentiment was echoed in a Canadian Medical Association Journal article in June of 2015 entitled: "Scientists decry Canada's outdated Wi-Fi safety rules" (see).
For more on his more recent research, click here.
Recent Science News
Go here to find a listing of a selection of truly eye-opening and in some cases shocking science news stories directly, partly or potentially related to the cumulative effects of radio-frequency radiation exposures.
News Coverage
Go here to find a listing of a selection of key news stories and blog posts that directly relate to the topic of 5G wireless and its deployment, WiFi, and cell phones, as well as several citizen empowerment stories relating to the growing pushback against the wireless industry's wanton disregard of human health as well as the lax government regulations and policies in this regard.
The Hard Science
Given the large number of studies pertaining to the health risks associated with EMF exposures, others of collated some of this information into a more manageable synoptic form. The first of these is a relatively succinct colour chart developed as part of the BioInitiative Report on radio-frequency radiation research (see PDF). The second of these compilations completed in 2018, cites 1,670 papers listed on PubMed. It was compiled by Powerwatch (see PDF). So if someone claims there is an insufficient body of evidence to substantiate your claim that radio-frequency radiation exposures over time can be harmful, politely ask them to consider looking at these two PDFs.
Related Outside Links
Canadians for Safe Technology:
http://c4st.org/
EM Facts Consultancy:
https://www.emfacts.com
Coalition to Stop Smart Meters in BC:
http://www.stopsmartmetersbc.com
Empowerment
This section offers a list of the various community empowering actions you can take either individually and/or in your community of interest. The list of actions described herein are more in keeping with protecting the health of individuals and the health of our ecosystem. Click here to download the associated PDF which you can also share with others.
Copyright © CETH.CA 2019