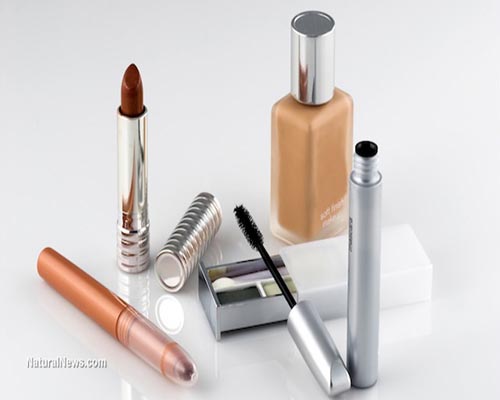 (NaturalNews) Just like with food, cheap, toxic chemicals are often used in cosmetics that pollute the body, the environment and even workers employed to manufacture them. Synthetic chemicals present in cosmetics aren't the only concern, but such products can also be prone to bacterial contamination, something that the U.S. Food and Drug Administration (FDA) does little to protect us from.
When product contamination does occur, cosmetic manufacturers are allowed to use their own discretion when deciding whether or not to inform the public, often leading to products being quietly yanked from store shelves.
A report by Al Jazeera reveals that the Ohio-based cleaning product manufacturer Kutol Products Co. removed 4,500 units of moisturizer from stores due to being contaminated with an opportunistic pathogenic bacteria capable of inflicting harm particularly to cystic fibrosis patients, burn victims and people with cancer.
Kutol has been involved in two out of seven recalls this year, reports confirm, with Medline Skintegrity and KLM Hand & Body being the two moisturizers recently pulled from stores.
A bacterium known to contaminate cosmetics may lie dormant in the host for years without symptoms, one microbiologist says
Pseudomonas bacterial infections are common among patients who have been hospitalized for more than a week, inducing complications such as pneumonia, urinary tract infections and inflammation.
"They don't normally infect healthy people. [But] If someone is sick, burned or their immunity is compromised, they're susceptible to infection by these opportunistic bacteria," said microbiologist Ananda Chakrabarty.
The rod-shaped bacteria are known for their metabolic diversity, occurring naturally in soil, marshes, coastal marine habitats and plant and animal tissue, according to MicrobeWiki, and can remain dormant in the host's body without symptoms for years.
"They consider the body as their home and try to protect it from outside invaders [diseases]," added Chakrabarty. "But when you're weak, that's the time it will work on your immune system and cause an infection."
Kutol's latest product contamination was discovered when the company's director of quality, Veriti Overby, saw a pink film on the top of one of the moisturizers, prompting further examination of their products.
It was later concluded that a "food type ingredient known to have bacteria in it" was responsible for the contamination. Kutol issued a notice to all of its distributors, including in the U.S., Canada and Australia but did not notify the public of the recall.
FDA has no authority to recall contaminated cosmetic products but can politely ask a company to do so
Under the FDA's Recall Policy for Cosmetics, the agency cannot order a recall for cosmetics but can only "monitor the progress of a recall" by conducting "audit checks at wholesale or retail customers to verify the recall's effectiveness."
In order to "minimize the burden of product recalls," the FDA says manufacturers should do a thorough job of preventing "product adulteration" and take precautionary measures such as assigning lot or batch numbers in order to easily identify problem products.
However, the law doesn't require companies to assign lot numbers for cosmetics.
For cosmetic firms with potentially contaminated products on store shelves, the FDA recommends that the company determines why the violation occurred, identify what changes should be made in order to prevent the problem from reoccurring and implement those changes.
Not once does the FDA recommend notifying the public.
Recalls are classified as Class I, II or III, depending on potential health effects. Typically, the public only receives notifications on Class I recalls.
Otherwise, recalls are made public in the weekly FDA Enforcement Report, which is often several months behind. A Vogue recall involving 200,000 bottles of OGX Biotin and Collagen Conditioner occurred in May; however, it was not reported by the FDA until September.
Consumer rights advocates insist that "better regulation and transparency of the cosmetics industry" could help curb bacterial infections originating from personal care products.
Learn more: http://www.naturalnews.com/052843_cosmetics_industry_bacterial_infections_lax_regulations.html#ixzz3zIU6RsYw
by Julie Wilson
Taken from – http://www.naturalnews.com/052843_cosmetics_industry_bacterial_infections_lax_regulations.html  – 02/05/2016