July 3-7, 2019
4:00 pm – 2:00 pm
5-Day Workshop:
Painting with Autumn Skye
An Exploration of
Intuition & Technique
Over five days, students will explore their own unique expression, and bring a vision into form on their own canvas.
Location
CoSM: Chapel of Sacred Mirrors
46 Deer Hill Rd.
Wappinger, NY
12590 United States
Admission
$550 Early Bird (First 5 Signups) / $645 General Admission (meals included, accommodations separate cost)
With balanced emphasis on cultivating creative intuition, as well as developing skilled technique, Autumn Skye offers comprehensive art instruction with numerous technical demonstrations, philosophical anecdotes, and attentive one-on-one support.
Each student will create their own piece, working from a reference and beginning on a blank canvas, dreaming into form their concept and empowering their faith in their intuition and the creative process. Autumn Skye will guide students through compositional mapping strategies, blocking in general forms, sculpting volumes, colour theory, glazing techniques, and final finessing of nuances "glow" and details.
Through the playful and profound process of looking deeply into the "mirror" of the canvas, we are invited to see the world and ourselves in new ways, while weaving depth and personal symbolism into the painting. 
All painting levels welcome!
"I believe that through creativity we have the opportunity to transmute shadow and pain into expressions of healing and wholeness. While the world is at the precipice of momentous change, artworks have the potential to be maps, and these maps can help guide humanity forward into new and positive ways of seeing and being. 

I offer my artwork as a mirror, both an intimate personal refection and a grand archetypical revelation. Within these visions, may each viewer recognize their own sacred heart and cosmic divinity. And, through this recognition, may we remember the innate grace that dwells within."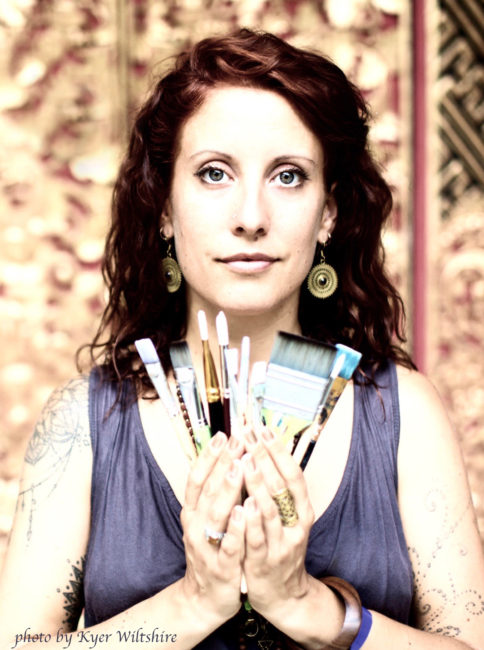 Autumn Skye's meticulous and poignant paintings weave together refined realism, iconic symbolism, and glowing geometries. She teaches and exhibits worldwide, and otherwise paints and thrives on the beautiful Sunshine Coast of BC, Canada. Considering herself immensely blessed, Autumn Skye strives to support others through creative empowerment and the perpetuation of inspiration.