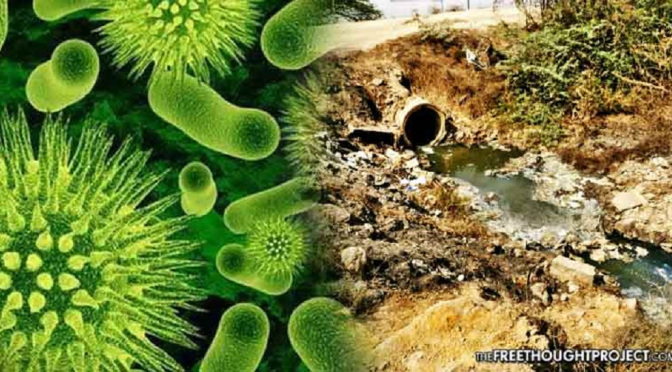 The issue of "pharmaceutical pollution" was recently highlighted in a study that points to inadequate waste management policies leading to the presence of both pharmaceutical products as well as drug-resistant superbugs in the waters of India.
The study, published in the scientific journal Infection, focused on the environmental impact of drug production in Hyderabad, a city in India that produces 40% of Indian generic drugs and 50% of the country's exported drugs. India produces about 20% of the world's generic pharmaceuticals.
This study was conducted to "determine the environmental presence of active anti-infective pharmaceuticals in a major production area for the global bulk drug market" and "document the ongoing environmental pollution by the pharmaceutical industries" in Hyderabad.
Researchers collected water samples from various areas within and around Hyderabad's industrial district where several drug manufacturing facilities are located. Sampling locations "were chosen to cover the direct vicinity of bulk drug manufacturing facilities, rivers, lakes, ground water, drinking water, water sources contaminated by sewage treatment plants, and surface water from populated urban as well as rural areas," according to the study.
According to the study, low levels of drugs that include antibiotics have been found in the past to be present in the ground and in drinking water across the globe, and that improper disposal is a major cause of this contamination, including in India.
The study pointed out that India has "become a hot spot of drug resistance" with over 56,000 babies dying yearly "infections by bacteria that are resistant to first-line antibiotics."
Nearly all of the 28 water samples gathered by researchers were found to contain bacteria and fungi that are resistant to several drugs. These microorganisms, referred to as MDR pathogens, are also referred to as "superbugs." Further testing on 16 of those samples showed that 13 samples contained antibiotic and antifungal drugs.
The study also noted that thousands of tons of waste from pharmaceutical manufacturing are produced by the factories every day.
While this study examined the implications of drug manufacturing in one of India's top producing cities, the study cautioned that "microbes' ability to travel within human hosts and traded animals or goods means that multidrug resistance can move around the world within a flight time of only a few hours." Also highlighted in the study's discussion is the issue of "relaxed" regulation of pollution:
Despite decades of campaigning by local NGOs and legal action taken to the highest Indian courts, the pollution of the surroundings of manufacturing plants has not been reduced. In fact, regulation targeting the pharmaceutical industry is actually becoming more relaxed as the government lifts restrictions on plant expansion and introduces changes to the national pollution index. This index, which has been in place since 2009, has repeatedly classified the Patancheru–Bollaram industrial area as 'critically polluted'. The government recently removed certain criteria relating to health and the environment from the index in the name of simplification, despite heavy criticism by the media that these changes were made to benefit polluting industries.
The study concluded by advising more rigid regulations in the drug manufacturing process to align with environmental laws.
According to the Bureau of Investigative Journalism, drug companies are required to adhere to guidelines known as Good Manufacturing Practices (GMP), but that anti-pollution measures are absent from those guidelines.
"Even the World Health Organisation (WHO) – a global public health body which has repeatedly called for concerted international action to tackle the dangerous threat of antibiotic resistance – buys antibiotics from companies whose drug ingredients are made in Hyderabad without carrying out environmental checks," noted the Bureau.
New Hampshire-based writer Annabelle Bamforth is focused on breaking the left/right paradigm through new media and local politics. Annabelle is the editor-in-chief of Emmy-winning journalist Ben Swann's Truth In Media Project and a producer for Mr. Swann's Truth In Media episodes. This article first appeared here at The Free Thought Project.