An Evening with Mingyur Rinpoche
by Diane Farnsworth, www.dianefarnsworth.com
Mingyur Rinpoche's presence transformed the atmospheric energy of the Freddy Wood Theatre on Friday evening of June the 21st.  If I were an animator, I would have sketched him as a gleaming orb in a lotus position with long wavy lines dancing around him extending out into his audience; little bubbles bursting pink hearts bouncing from seat to seat.
In my university days, I sat cramped in those same seats, counting minutes, my long legs touching the seat in front of me, irritated by its occupant sporting a hat, or worse, pungent cologne. From the moment Rinpoche graced us with his light-hearted presence, I was instantly engaged, not to say I wasn't aware of the woman two seats down spraying a fragrance or of the man in front of me rolling his head back inches from my knees. Baby steps. The point is I was not triggered by my surroundings. It was like watching pesky thoughts drift by without feeling any attachment, during a meditation. I confess it wasn't due to my own personal growth so much as it was, from sitting in the same room with an enlightened soul.
Apart from my feelings of admiration towards Rinpoche, I was impressed by his laissez-faire style of teaching. He led us through a short meditation, telling us to watch our breath, something his father had taught him as a child because he had suffered panic attacks.  He admitted how watching his breath for weeks on end had bored him. He joked that 'meditation is too easy and that's the problem.'  He told us 'Step one is to relax'and promised us 'a big surprise'was in store for us in step two at the end of the evening.  An hour and half passed when he revealed that step two was 'finish.'
Throughout the years in my own training as a teacher, I have emulated my favorite teachers, the ones who kept me awake with their mischievous sense of wit while inspiring me with their knowledge.  Rinpoche possesses this natural gift of playfulness that I have found in gifted teachers, performers, and enlightened people who do not take themselves too seriously. It is a pureness that many of us lose when we are told to 'grow up'or 'take ourselves more seriously'by our families, teachers or peers, unless we are rebels who ignore these commands, understanding their implications.
Mingyur Rinpoche candidly told the audience about his new book, In Love with the World- A Monk's Journey Through the Bardos of Living and Dying, acknowledging how difficult leaving the comforts of his monastery was to wander through India without money or a plan. Rinpoche spoke with humor and honesty about how boarding a crowded train was when he first left his monastery, shocking him so much he froze amid the bustling crowd near the train. His lack of preparation brought on what he referred to as 'neurosis' at the train station.  He realized that meditating in a tranquil environment was much easier than meditation in a stressful situation.
I was engaged throughout Rinpoche's story-telling, witnessing a flawless collaboration between Rinpoche and his interviewer as he gracefully asked each question without interrupting Rinpoche's conversation with his audience, unlike any live panel or any talk show I've ever witnessed.
I was impressed by how Rinpoche described his method of becoming present so to manage the task of boarding the train, using a simple mediation to bring him back from what many therapists call a fightorflight response or panic attack.  Rinpoche compared this transition between his stressed state and the motivational state that got him on the train, to the luminal state between life and death or what Buddhists call bardo which he later experienced in a near death experience on his journey. He told us that this gap between these states is where we gain insight.  Rinpoche described his near death experience with great passion, having stayed in bardo for over four hours and learning the importance of letting go of memories so to experience joy, clarity, and luminosity which were a few of the states he described when he almost died.  He comically called death 'the big adventure.'
Before questions were opened up to the audience, I felt Rinpoche had already answered all of mine. He answered with ease, speaking of the simplicity of watching your breath to stay aware, appreciating waking in the morning and recognizing the healthy self versus the unhealthy self, the latter not being simpatico with life's unexpected surprises because of its permanence and inability to let go of habits and beliefs.  When someone asked, in so many words, about how to become a more conscious human being, he joked 'I almost died…extreme case. Don't try at home.'  He said we'll have lots of opportunity for growth and that 'life is like the stock market, up and down' and we 'learn more when it's down.'
My evening with Mingyur Rinpoche surpassed my expectations. I was pleasantly surprised that he touched on the subject of 'neuroplasticity' and spoke a little on creating new neuro pathways, a conversation that both fascinates and excites me. Rinpoche's description of a meditation he called a 'scanning meditation' reminded me of an acting exercise called the inner monologuethat I was taught as a young actor, which I have since incorporated into my expressive arts therapy practice.
I recently told a client that it took me thirty years to learn how to meditate. I didn't want to scare him so I added 'I'm a slow learner'.  I even created an experimental dance film called Dueling Lotusin 2003 about my struggle with meditation. I have since learned that I've been meditating much longer than I'd previously given myself credit for.
As for Rinpoche telling us to 'meditate with good circumstances' and encouraging everyone to get good at it so we can 'add more wood to the fire,'   It is a very different experience practicing awareness in times of crisis, 'but worth the pain when enlightenment fills that gap between suffering and change.'  He assured us that we will have 'lots of opportunity!'  Yes, we will.  Rinpoche's words that I will pass on to clients are 'letting go isn't giving up!'
Diane Farnsworth:  expressive arts therapist, artist, writer, teacher, director.
www.dianefarnsworth.com
www.crowbooty.com
I respectfully acknowledge that I live and work on the unceded territories of the xʷməθkʷəy̓əm (Musqueam), Sḵwx̱wú7mesh (Squamish) and Tsleil-Waututh Nations.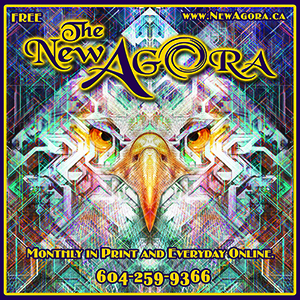 Come Follow Us on Twitter:  https://twitter.com/TheNewAgora
Come Like Us on Facebook  https://www.facebook.com/4thenewagora/
And Sign Up for our Newsletter:
https://mailchi.mp/7de35b29504b/thenewagora-thenewnow-fanlist