New Study Finds Chemicals In Sunscreen Break Through Your Skin & Seep Into Your Bloodstream
IN BRIEF
The Facts:A new study, one out of many, has shown that it takes less than a day for the chemicals within sunscreen to penetrate the skin and enter into ones bloodstream, beyond levels that are considered safe.
Reflect On: What goes on your skin goes in your skin. We've known this for at least a decade, yet these products still get approved without any appropriate safety testing. Why? Have corporations compromised our federal health regulatory agencies?
Collective Evolution has been creating awareness about the potential dangers of sunscreen since the beginning of 2009. When we started to, despite presenting credible peer-reviewed scientific publications and interviews with doctors and scientists, many simply thought this wasn't true. The idea that our federal health regulatory agencies are really looking out for our health and the idea that we can put absolute trust into these agencies as well as the products that they approve are no longer valid. Enormous amounts of corruption have been exposed over the past decade, which goes to show that we really need to rely on ourselves, utilize our critical thinking, and do our own research instead of allowing government authoritative bodies to do it for us.
Sunscreen, and the entire cosmetics industry for that matter, is a great example of how a lack of oversight exists when it comes to the approval of these products. How were they ever approved and marketed as safe?
A new study published Monday in the peer-reviewed medical journal JAMA found that several active ingredients in different sunscreens enter the bloodstream at levels that far exceed the FDA's recommended threshold without a government safety inspection.
The study used 4 commercially available sunscreens, which all resulted in plasma concentrations that exceeded the safety levels established by the FDA. These safety levels themselves should also be questioned, as any amount of toxic chemicals is not really safe in the body, even in trace amounts.  The study also points out that it's questionable that the FDA waved "some nonclinical toxicology studies for sunscreens." Clearly more are needed. The study concluded that "the systemic absorption of sunscreen ingredients supports the need for further studies to determine the clinical significance of these findings," although, strangely, it did mention that the results "do not indicate that individuals should refrain from the use of sunscreen."
It's odd that the authors would state that, perhaps they did so because it's a study that was conducted by the FDA? You would think that "plasma concentrations" that exceed safety levels would have the authors urging individuals to seek out less harmful sunscreen products, since these are available at multiple natural health stores.
The big takeaway here is that, what goes on your skin goes into your skin, and it doesn't take long. The study mentioned observed chemicals seep into the bloodstream via sunscreen in just 24 hours.
It's interesting how this particular study caught the attention of the mainstream, when numerous studies have shown the same thing. For example, a study led by researchers at UC Berkeley and Clinica de Salud del Valle Salinas demonstrated how taking even a short break from various cosmetics, shampoos, and other personal care products can lead to a substantial drop in the levels of hormone-disrupting chemicals present within the body. (source)
After just a three-day trial with the girls using only the lower-chemical products, urine samples showed a significant drop in the level of chemicals in the body. Methyl and propyl parabens, commonly used as preservatives in cosmetics, dropped 44% and 45%, respectively, and metabolites of diethyl phthalate, used often in perfumes, dropped by 27%, and both triclosan and benzophenone-3 fell 36%.
Pretty, crazy, isn't it?
Back to sunscreen! As far back as 2004, a study conducted at the Faculty of Pharmacy at the University of Manitoba, Canada, sought to develop a method for quantifying common sunscreen agents. Results demonstrated a significant penetration of all sunscreen agents into the skin, meaning all of these chemicals are entering multiple tissues within the body. (source)
What type of chemicals are we talking about? Oxybenzone is present in multiple popular sunscreens, for example. There are multiple studies that have outlined the dangers of this chemical, as it's linked to several ailments. For example, a study out of the Institute of Pharmacology and Toxicology from the University of Zurich determined that oxybenzone may also mimic the effects of estrogen in the body and promote the growth of cancer cells.
Prompted by multiple studies, a study out of the Queensland Cancer Fund Laboratories at the Queensland Institute of Medical Research in Australia recognized the significance of systemic absorption of sunscreens. Researchers discovered that oxybenzone inhibited cell growth and DNA synthesis and retarded cycle progression in the first of the four phases of the cell cycle. They determined that sunscreen causes mitochondrial stress and changes in drug uptake in certain cell lines.
These are a few of multiple examples, and it's only for one chemical out of the multiple hormone disrupting, harmful chemicals found within sunscreen.
Furthermore, various studies have shown that sunscreen ingredients, like oxybenzone, actually increase the absorption of other harmful chemicals, like herbicides, which we are constantly exposed to as well.
Agricultural workers are encouraged to use sunscreen to decrease the risk of UV-related skin cancer. Our previous studies have shown certain commercial sunscreens to be penetration enhancers. The focus of this project is to determine whether active ingredients in sunscreen formulations (i.e., the UV absorbing components and insect repellants for the sunscreen/bug repellant combinations) also act as dermal penetration enhancers for herbicides in vitro. Additional studies demonstrated that the penetration enhancement seen across hairless mouse skin also occurred with human skin. Thus, the active ingredients of sunscreen formulations enhance dermal penetration of the moderately lipophilic herbicide 2,4-D. (source)
Again, the main point here is that what you put on your body goes into your body. If you're putting on sunscreen, or make-up, and you read all of the ingredients, all of those ingredients are also entering into your bloodstream.
So, What's The Solution?
Are we really supposed to avoid the sun? It doesn't seem too natural, as it provides us with an enormous amount of nourishment. Not just us, but all life on Earth. Was fear of the sun simply used as a marketing tactic to avoid it and sell these products? Sure, sunburns are bad and can cause cancer, but simple sun exposure is not bad for you. We burn because our skin is not used to so much sun exposure, as we now live unnatural lives out of the sun. When we all of a sudden spend more time outdoors, our skin doesn't have the time to adjust, and so it burns.
If you want to wear sunscreen, the answer is simple: Seek out sunscreen products without harmful chemicals. Go to a natural health store, do your own research, look online, seek out natural alternative products, and perhaps slowly begin to spend more time outside so your skin adjusts and becomes less prone to burning.
Should we really be spending more time in the sun? According to a study published in the Journal of Internal Medicine, the life expectancy of people that avoided sun exposure was reduced by about 2 years compared to those who regularly sun bathed. The study even pointed out that nonsmokers who stayed out of the sun had a life expectancy similar to smokers who had the highest level of sun exposure. (source)
In the study, the researchers looked at data from 29,518 Swedish women. The women were 25-64 years of age at the start of the study. The study was originally designed to evaluate the rate of melanoma, a type of skin cancer, so sun exposure was one of the variables that was being examined.
The results showed that women who regularly sun bathed lived longer because they had a lower rate of death, cardiovascular disease (CVD), and deaths that were not due to cancer or CVD as compared to those who avoided sun exposure. However, these women did have a higher rate of death due to cancer, which was in part because they lived longer.
Because nonsmokers who avoided sun exposure had a life expectancy similar to smokers in the highest sun exposure group, the researchers concluded that avoidance of sun exposure is a risk factor for death of a similar magnitude as smoking.
This isn't a big surprise, as the sun gives us vitamin D, which plays a huge role in our overall health, especially when it comes to our cardiovascular strength, organ function, blood pressure, bone health, and our immune system. We need sun exposure, and if we are putting on sunscreen every time we are out in the sun as a result of fear propaganda, we are not getting all of those health benefits.  Please understand that this list of important benefits represents a fraction of the many ways in which vitamin D helps optimize your health. And, although you can obtain vitamin D from natural food sources, experts agree on one thing: Sunlight is by far the best way to get your vitamin D. The so-called experts who advise you to avoid all sunlight and religiously apply sunscreen are actually encouraging you to increase your risk of cancer, not lower it.
A huge and growing amount of research has now shown that avoiding sun exposure has created an epidemic of vitamin D deficiency. Current estimates are that at least 50% of the general population and 80% in infants are deficient in vitamin D. Low levels of D3 are now known to play a major role in the development in many of the chronic degenerative diseases. In fact, vitamin D deficiency may be the most common medical condition in the world and vitamin D supplementation may be the most cost effective strategy in improving health, reducing disease, and living longer. Those deficient in vitamin D have twice the rate of death and a doubling of risk for many diseases, such as cancer, cardiovascular disease, diabetes, asthma and autoimmune diseases such as multiple sclerosis. – Dr. Michael Murray(source)
There are so many more studies that back up the information shared in this article. One study revealed that melanoma patients who had higher levels of sun exposure were less likely to die than other melanoma patients, and patients who already had melanoma and got a lot of sun exposure were prone to a less aggressive tumor type. Perhaps there are more prominent causes of skin cancer than the sun?
An Italian study, published in the European Journal of Cancer in June 2008, also confirms and supports earlier studies showing improved survival rates in melanoma patients who were exposed to sunlight more frequently in the time before their melanoma was diagnosed.
This suggests sunlight can actually help skin cancer.
Let's be clear, healthy sun exposure may not cause skin cancer, but a bad sunburn and unhealthy exposure can. We do need shade, but spending a day out in the sun may be natural and not as dangerous as it's been made out to be. You can also cover up with clothes, which is more effective than sunscreen as it doesn't block 100 percent of UV rays.
Many natural oils have also been shown to have SPF protection, so you could do some more research on this if you're interested.
Below is a video of Dr. Elizabeth Plourde, a licensed Clinical Laboratory Scientist who also has degrees in Biological Science and Psychology. Dr. Plourde has degrees from California State University, Pepperdine University and San Diego Univeristy for Integrative Studies. Currenty, Dr. Plourde uses her experience in her fields of study as well has her work in medical laboratories to focus attention on the hazards of sunscreen, among other things.
The Takeaway
A lot of fear has been pumped into the population, to the point where people are terrified to go out into the sun without putting on sunscreen every single time. We are now only starting to understand the long term health consequences of such a practice, and this could be one of many environmental causes contributing to several age-related diseases. Don't be too scared — it's not like you'll develop cancer or a hormone disrupting disease after using conventional sunscreen once. This requires long-term exposure to these chemicals, which is in part why so many people don't care about what they put on their bodies.
At the end of the day, there are other things you can do, but just know that sunlight is really nothing to fear. It's very healthy in appropriate amounts, and given the amount of time we spend indoors, the more sunlight we are exposed to the better.
We plan to investigate the telecom industry, it's ties to politics, and expose its efforts to push 5G while ignoring the dangers and without proper safety testing, but we can't do it without your support.
We've launched a funding campaign to fuel our efforts on this matter as we are confident we can make a difference and have a strong plan to get it done.
Check out our plan and join our campaign here.
SUBSCRIBE TO OUR DAILY EMAIL
START YOUR DAY WITH THE LATEST NEWS
---
---
---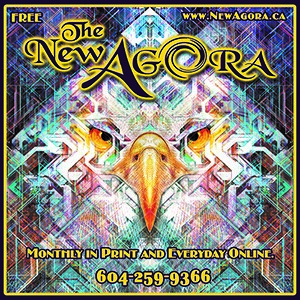 Come Follow Us on Twitter:  https://twitter.com/TheNewAgora
Come Like Us on Facebook  https://www.facebook.com/4thenewagora/
And Sign Up for our Newsletter:
https://mailchi.mp/7de35b29504b/thenewagora-thenewnow-fanlist
---