Dominic Sandbrook says there is an overwhelming case that mobiles have become a force for ill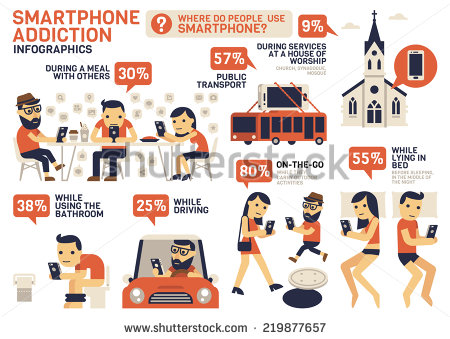 'Fifty years ago, Martin Cooper was a man with a dream. A senior engineer with the U.S. telecoms firm Motorola, he was obsessed with making a mobile communication device inspired by the wrist-radio worn by the comic-book detective Dick Tracy.
On April 3, 1973, Cooper summoned the press to the New York Hilton. Brandishing a colossal white phone, the size of the proverbial brick, he dialled his closest competitor, Dr Joel S. Engel, who worked for Motorola's rivals AT&T.
'Joel, this is Marty,' he said cheerfully. 'I'm calling you from a cell phone, a real handheld portable cell phone.' And at that moment, history was made.
Few people have heard of Martin Cooper. But when historians write the story of our times, his name will surely loom very large.
For today we are living in the world he made. Like the inventor Johannes Gutenberg, whose printing press in 1450 catapulted us from the Middle Ages to modernity, the creator of the mobile phone kicked off a social and cultural revolution.
If that sounds like an overstatement, look at the stunning results of Ofcom's research into our relationship with technology, which were published in yesterday's Mail.
The average Briton checks his or her smartphone every 12 minutes. People aged between 18 and 24 look at their phones for more than three-and-a-half hours a day on average, and almost half of us check our phones within five minutes of waking up.
Six in ten people say they cannot live without them. Teenagers, in particular, define themselves almost entirely through their phones, seeing them as part of their being.
So although we often refer to mobile phone addicts as zombies, perhaps it would be more accurate to talk of a nation of androids, fusing man and machine.
Like eight out of ten people in today's Britain, I own a smartphone — though, as my wife can confirm, I am not very good at answering it, often leaving it buried under piles of books for days on end.
They are, of course, marvellous inventions. But there is now, I think, an overwhelming case that they have become a force for ill. When the first phones went on sale in the Eighties, they were derided as gimmicks, comical bricks that were heavy to carry and unreliable to use. A decade later, when mobile phones became more widespread, most of us greeted them as liberators.'
Read more: Our smartphone addiction is making us stupid: Dominic Sandbrook says there is an overwhelming case that mobiles have become a force for ill