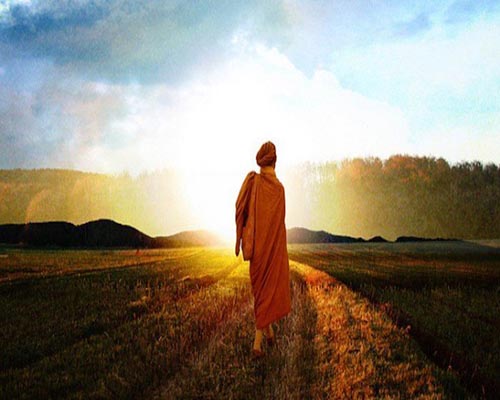 According to a vast array of magical and alchemical texts, hermetic treatises, philosophic works, religious scriptures, and many prominent pieces of literature spanning the ages, it appears that the sole purpose of life is to awaken from our self-imposed slumber. That is, to remember who we really are or to become that which we have always been. This natural proclivity percolating within man to consciously collaborate with an innately irrational unconscious life process is what gives an individual meaning, purpose, and value.
We see this current of thought unequivocally expressed in Ralph Waldo Emerson's first book entitled Nature. While striking a delicate accord between the terms Nature and nature, the work essentially presupposes that the entirely of life has but one aim: to return to the Source.
At bottom, this process of spiritual awakening is ultimately an initiation into the enduring harmony of the world or, if you like, a realignment of our will with the embodied Will of the Universe. It is about ascending that mystical ladder that punctuates the heavens and leads right up to the doorstep of God. It is about the firing of rudimentary clay so as to produce that finished effervescent glaze. In essence, it is about the changing of frequency as the blossoming of our blood allows us to tune back into that ancient theme of the Music of the Spheres. As Cicero wrote in his work The Dream of Scipio:
"Learned men, by imitating this harmony on stringed instruments and in song, have gained for themselves a return to the supernal heights…."
Given all of this, the question naturally arises as to how we know we are marching to the right tune. As we pursue the text of Life, of which we are all on different chapters, there are many indicators of progress that help one measure the extent to which he/she is successfully moving away from an object-oriented ego-dominated consciousness.
While not everyone experiences the exact same signals, there do seem to be some parallels that persistently appear in the life of the would-be adept. For example, initially you will find yourself engulfed by a series of jaw-dropping "coincidences" (synchronicities). The inner will spill over into the outer as your enthusiasm scintillates like a savory steak, boils to a crescendo, and finally takes off like a 747. This formidable energetic essence of emotion appears to be the elixir that underlies this aboriginal dreamlike state of mind. As Albertus Magnus wrote in his piece De mirabilibus mundi:
"I discovered an instructive account (of Magick) in Avicenna's Liber Sextus Naturalium, which says that a certain power to alter things indwells in the human soul and subordinates the other things to her, particularly when she is swept into a great excess of love or hate or the like.  When therefore the soul of man falls into a great excess of any passion, it can be proved by experiment that it (the excess) binds things and alters them in the way it wants."
As these synchronicities abound you will feel like you're dreaming while in a state of waking consciousness. It's like being the choreographer of your own inner theatre production. For myself, this was the tipping point where I was forced to reconfigure my cognitive schema relative to how the world is structured and functions. I was forced to see it as it really was – a sort of fiction, mirage, cognitive construction, or illusory transcendental projection of thought itself. Now, while it is true that everyone experiences certain synchronistic phenomena such as the aforementioned, those who are advancing on a shamanic path will notice the regularity and frequency of these occurrences increasing. It may even get to the point where it becomes psychologically worrisome. But obviously fear not for this is all part and parcel of the Way.   
READ: 9 Key Components of the Shift Towards Higher Consciousness
The next thing you will start to notice on this journey is the mysterious manifestation of a multitude of omens. Omens are the Spirit's way of communicating to man through the medium of Nature. They appear to increase in the life of the more spiritual types but this is only an illusion. As Carlos Castaneda wrote in The Power of Silence:
"I am going to tell you a story about the nagual Elias and the manifestation of the spirit. The spirit manifests itself to a sorcerer, especially to a nagual, at every turn. However, this is not the entire truth. The entire truth is that the spirit reveals itself to everyone with the same intensity and consistency, but only sorcerers, and naguals in particular, are attuned to such revelations."
An additional sign of success will be an increased urge to express yourself creatively. At times, and seemingly out of nowhere, an omnivorous voracious impulse will come stampeding through. It completely engulfs even the most left-brain types and almost seems to demand that it be represented in some sort of concrete form be it a painting, sculpture, drawing, or what have you. I say almost because this is not an elemental struggling to survive but rather something that emanates from an innermost need, something that feels akin to duty. Amazingly, in the process of it all, you will feel like your hand is being guided by an invisible force, like you're an instrument or conduit for the One and All. And when the work is finally complete you will stand back and say,"That was not done by my hand and yet it was." And this is yet another sign: that of not taking credit. 
As you continue to advance something truly astonishing may pop into your life. This being Numbers. Initially, you may even find the number eleven appearing at a frequency beyond that which can reasonably be explained away as statistical anomaly. For instance, there will be many consecutive days, sometimes lasting years, where you will see only the number eleven when you unconsciously look to discover the time. This would be the equivalent of all random variables or data sets falling consistently within the tail range of the normal distribution curve. And no, this is not due to some incessant infatuation with the number eleven or because it holds some kind of deep sentimental value or sacred meaning for you. These experiences often tend to occurbefore the number gains any symbolic prominence in your mind. What's important to understand is that these experiences are typically normal and not necessarily a sign of neurosis. 
READ: 11:11 – Have You Been Seeing These Numbers Everywhere?
In the end, the Numbers that are mysteriously being issued by Nature represent symbolic attempts to facilitate the process of Individuation; to bridge that gulf within the mind of man that has reached epic proportions.  For Numbers, just like the sun, moon, stars, or anything else in Nature, are ultimately symbols.  More specifically, they are archetypes of order.  As Dr. Carl Jung wrote in his work Synchronicity: An Acausal Connecting Principle:
"Hence it is not such an audacious conclusion after all if we define number psychologically as an archetype of order which has become conscious. Remarkably enough, the psychic images of wholeness which are spontaneously produced by the unconscious, the symbols of the self in mandala form, also have a mathematical structure. They are as a rule quaternities. These structures not only possess order, they also create it. This is why they generally appear in times of psychic disorientation in order to compensate a chaotic state or as formulations of numinous experiences. It must be emphasized yet again that they are not inventions of the conscious mind but are spontaneous products of the unconscious, as has been sufficiently shown by experience. Naturally the conscious mind can imitate these patterns of order, but such imitations do not prove that the originals are conscious inventions. From this it follows irrefutably that the unconscious uses number as an ordering factor."
Another idiosyncratic element that you can expect to confront when traversing this path will be suffering. Just as pain accompanies our entrance into this world, so too does pain accompany the process of mystical regeneration. As part of this suffering you may experience the haughtiness of the vain, the ridicule of the close-minded, the mockery of the egotistical, and the general indifference of the masses. Many may perceive you as some sort of anomaly or worse. They will stare like motorists when they slow down to gawk at some mangled mess on the side of the road. They will think "Does he even realize he's going nowhere?" Like a hamster in a wheel you may be perceived as moving while remaining still. But not all those who wander are lost. 
"They who dance are thought mad by those who hear not the music."—The Times (London) 1927
Other aspects of this tumultuous terrain include the manifestation of various psychic aberrations that serve to complicate and undermine the Work. In alchemy, these disturbances are generally brushed aside as technical difficulties. However, in the Greek and Latin alchemical texts the psychic nature of these dangers is elaborated upon at length and is described as part demonic and part psychic disturbance i.e. melancholia. With regard to the latter, this represents the confrontation with the shadow or the nigredo phase of the Work. This peculiar psychic state will descend upon you suddenly and without warning. It will be experienced as an extreme boredom unlike anything you have ever experienced. You will literally be left with zero interest in anything. And then, just as suddenly as it arrived, it will depart (for me this lasted exactly 30 days). As to the dangers in general, we get this from the alchemist Aegidius de Vadis who wrote the following in his work Dialogus inter naturam et filium philosophorum (1659):
"I shall keep silent about this science, which has led most of those who work in it into confusion, because there are few indeed who find what they seek, but an infinite number who have plunged to their ruin."
Ultimately, all of this gloom and doom can be viewed as the training necessary to defeat the Guardian of the Gate. As the old consciousness dissolves a new one is rising to take its place. For one must die to be reborn. And one of the main facets of this figurative death is a separation from one's mother tongue. The night sea journey of Odysseus is a necessary prerequisite for the return journey home. For was not Christ transfigured in a cave? Did not the Buddha disappear into the desert? So too will we have to traverse the deepest thicket of our own unconscious wilderness if we wish to turn lead into gold. For we are like mushrooms- we grow in the dark. In the words of the primitive Eskimo shaman Igjugarju:
"The only true wisdom lives far from mankind, out in the great loneliness, and it can be reached only through suffering. Privation and suffering alone can open the mind of a man to all that is hidden to others."—H. Ostermann, The Alaskan Eskimos
As you navigate your way through these stormy seas know that you are on the right path, trust in yourself, and let that Power within radiate outwards in every conceivable direction. Be a mirror of what no one sees but all can sense. Communicate without speaking by allowing your electro-magnetism flood the consciousness of those around you. Act as that catalyst that kick starts the entire cascade of neurological impulses which adds vigor to the soul. For that interminable ocean – the inexhaustible fire that galvanizes, adds an extra spring to your step, and is the source of the second wind – is boiling within. 
READ: The Warrior's Way – 50 Ways to Open Up to Personal Power
As this rich abundant Infinite Force continues to work itself through you it will eventually effectuate a change in lifestyle. Goals will become more macro as opposed to micro as you begin to exhibit more compassion towards others. And as you learn to love others your capacity for accepting and loving yourself will grow exponentially. With this new found respect, an increased awareness in the importance of physical health will take root. Eventually, a win-win attitude will be adopted and an unusual elation will fill you to the brim. This uncanny cheer will inevitably overflow with the physiological result being a feeling akin to walking on air. Like a balloon there will be times when you feel like your literally going to float away. Precisely then will your shamanic sight, your power of imagination, will be most keen. A broadening of the perceptional horizon will allow you tosee the darkness inside others. Through all of this you will feel and look like you're getting younger even as you grow older. 
More and more you will be helped by God as you continue to earn your keep on this path, whether it through devotion, the application of philosophic will, or otherwise. Material progress will also be a critical component in facilitating your spiritual ascent. For if one recalls it was only after a series of worldly victories that the Vision of the Grail presented itself to Parzival. Only when his temporal goal was fulfilled as represented by King Arthur's court did the call come to go deeper, beyond the bounds of space, time, and causality to a more transpersonal realm. In short, the pathless path that leads to the Garden of the Philosophers opened up after the knight had earned his keep and was ready. As Louis Pasteur once quipped:
"Chance favors the prepared mind." 
Eventually, events will begin to occur that will be so startling, so earth-shattering that they would cause even the most ardent non-believer to buckle at the knees. The Mysteries will begin to unfold in your daily life as circumstances, people, experiences, opportunities, etc., are brought in to act as initiatory gods. The Spirit will come out to meet you everywhere you go. As is said in the Corpus Hemeticum (Hermes-Thot),
"Everywhere God will come to meet you, everywhere he will appear to you, at places and times at which you look not for it, in your waking hours and in your sleep, when you are journeying by water and by land, in the nighttime and in the daytime, when you are speaking and when you are silent; for there is nothing which is not God."
All in all, what's really transpiring here is the conscious actualization of formerly latent unconscious aspects of our Self. As we continue to advance to higher and higher grades there will be other surprises to be sure – the remembering of past lives and the manifestation of miracles to name just a few. Increasingly, Nature will act as the mirror of an exciting invigorating inner adventure. Life then becomes the Lodge; Life becomes the Initiator. And this is precisely when it will become crystal clear to you that there is no need to seek out a master and that true learning starts when the books stop. For you will have arrived at the realization through experience that the highest Authority is to be found within.      
In the end, the grand consummation will take hold and the Vision of the Grail will present itself. At High Noon the fabric of nature will be translucent as the world morphs into a web of effervescentlight. Alive to an infinite degree, full of flavor and zeal, boisterous and bubbly, it sizzles until the soul bursts into flames. We then become everything because we resist nothing. Circumambulating back to that Center, where all opposites fluttering within the wheel of space-time coalesce into One, our senses become spiritualized, our instincts integrated, the body transfigured, the world transformed. For we have returned to those eternal heights to hear the Music of the Spheres, behold Beatrice, perceive Paradise, experience the sunrise, and feel the undulations of Infinity. This mesmeric, beatific, magnificent state is our right, our heritage, our destiny. It is the beginningand the end; our past and future. And it is ours to behold right Here and Now. 
Taken from http://www.zengardner.com/63207-2/  05/15/2016
by Alex Vandenberg