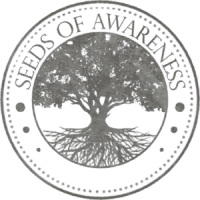 seedsofawareness.com.au
Written by Matt & Steph of Seeds of Awareness, 13th of February 2018.
The following article will discuss the topics of;
– Silent suffering
– Humanity's primary wound
– The symptoms of a distorted world
– The split between our inner male and female energies
– Reclaiming our wholeness
(Disclaimer: This article, being around 5300 words will take between 8-12 minutes to read, and therefore anyone afflicted by our modern day 8 second attention span epidemic (for which we can largely thank social media), may find it challenging to read. Not all of our articles will be this long, however some topics simply can not be skimmed over, and we are appealing to those who are truly seeking to change and grow, not those who are impatient and want knowledge without the effort)
Our state of silent suffering 
Over the last five years, we have been on a whirlwind journey of healing and seeking truth in order to make sense of our suffering, as well as the suffering experienced by so many others. Seeking became our obsession, because like many, we were utterly disillusioned with the world. We were sick of not understanding why we felt so lost and broken, and why there was so much distortion in the world (such as war, ego, famine, environmental destruction, illness, addiction, animal exploitation, celebrity worshiping etc.).
We have been down many rabbit holes, explored various and diverse modalities of healing, read a bazillion books and articles, been on retreats across different countries and states, attended workshops…. all with the hope of experiencing deeper meaning in our lives, heart-centred purpose, healing, inner peace and, ultimately, to reclaim our wholeness. Suffering, as it so often is, turned out to be our greatest blessing. For us, suffering (and the friction it caused in our lives) operated like a compass, signalling to us where there existed blockages preventing the expression of our highest personal truth, as well as the areas we were not living aligned with wholeness. If we did not experience suffering in our lives (and acknowledged our suffering), we would probably not have woken up to the unconscious and negative cycles and patterns of behaviour preventing us from living in a state of wholeness.
The steps in our destructive cycle involved:
1. A state of complete disillusionment with the world (such as a sense of not belonging and feeling disconnected).
2. Associated feelings of anxiety, frustration, despair, grief, fear and depression.
3. The seeking of temporary relief via addictive, numbing and dissociative agents (such as drugs, partying, food, exercise, sex, toxic relationships) in order to numb these uncomfortable feelings.
4. More suffering, once the temporary relief faded, as well as finding it very challenging to forgive ourselves and let go of the past.
Stuck on the carousel that was our negative cycles of behaviour, we clung to some faint hope that maybe, just maybe – once we climbed that "next hill", or achieved another admirable feat, or overcame that "next obstacle", we would find some level of personal fulfilment, and internal peace.
Unfortunately, just like us, many people are not aware that they are also caught up in cycles of suffering similar to these, simply because much of the suffering experienced by people in the western world is silent and therefore undetected. As well as also being easier to mask and cover up.
​The suffering we are referring to is characterised by a general lack of vitality, as well as feelings of hopelessness, low motivation, a constant hum of background anxiety, stress, lethargy, depression, and/or loneliness… just to name a few. This more silent form of suffering may not be attention-grabbing and extreme, but is deceptively (and potentially equally as) destructive. This is because it is like a constant dull headache that we can live with and still go about our day, as opposed to a throbbing migraine that demands bed rest and our fullest attention. It therefore, does not provide enough friction and tension in our lives to affect proper change, and thus is tolerated and allowed to continue.
We have observed that, as we have worked on healing our primary wound (through embodiment practices, which we will elaborate on in another article, and which Shepherd covers in depth in 'New Self/New World), everything else in our lives has began to harmonise naturally, including the way we relate to the world, to each other, and to ourselves.
You can think of this primary wound as similar to having a flesh wound on the arm that gets infected, with the infection spreading around the body. This infection would no doubt cause imbalances and symptoms of disease such as fever, nausea, fatigue, and general sickness. We could focus on these symptoms and try to attack them one by one, such as by taking drugs for the nausea and vomiting, or we could simply address the wound on the arm. When we clean it up and allow it to heal, the body naturally re-harmonises itself. Or, alternatively we could ignore the wound completely and just focus on the symptoms, and even adapt our lives around these symptoms, learning to tolerate and live with them.
This wounded state then becomes our new normal, and we eventually forget what it felt like before being wounded.
This last option sounds like a rather insane thing to do, but it is exactly what the large majority of humanity has unconsciously done simply because we are blind to our primary wound. Our lives, our culture, and this entire world, have been afflicted by the infection caused by our primary wound, and this is why we believe that there is so much distortion.
We have existed in this wounded and fragmented state for so long that our culture does not even recognise or refer to humanity being any other way.
Our western architecture, institutions, art, and institutions, all seek to reinforce and normalise humanity's fragmented head-centric state. The only references to a species grounded in wholeness, experiencing the world through the feeling centres of the gut, are certain select cultures scattered around the world. As well as 'some' nomadic tribes who prefer to remain far away from modern civilisation, and we are conditioned to view these cultures as "primitive" or "strange".
If one however can separate themselves from their deep cultural conditioning and personal bias, and begin to analyse our western world from a place of sincere and objective scrutiny, it reveals itself to be built largely on a foundation of suppression and distortion of truth.
Here is a list of distortions from our own observations, and unfortunately these are only the tip of the ice-berg.
It seems that just about everything in our world has been infected by our primary wound, but we have simply adapted ourselves to the distortions this has caused because it is all we have ever known. And yes it is important to focus on remedies for these symptoms, which is something we plan on doing throughout our journey here at Seeds of Awareness, but without addressing our primary wound, we will just continue to chase our tails.
What we will attempt to do now is to help you understand this primary wound on a deeper level, and to bring your awareness towards what we believe needs to be one of humanity's main focus points, which is to reclaim our wholeness.

The Suppression of our Inner Female & the Rise of the Tyrant
The point of awareness of the male aspect of consciousness can be located in the head, and it is represented by qualities of logic, reason, hierarchy and structure, willful doing, as well as focus on linear time.
Conversely, the female aspect of consciousness – with its qualities of sensitivity, intuition, wisdom, and presence – is located in the gut. Specifically, the female aspect of consciousness resides in an area of the gut referred to as the 'pelvic bowl'.