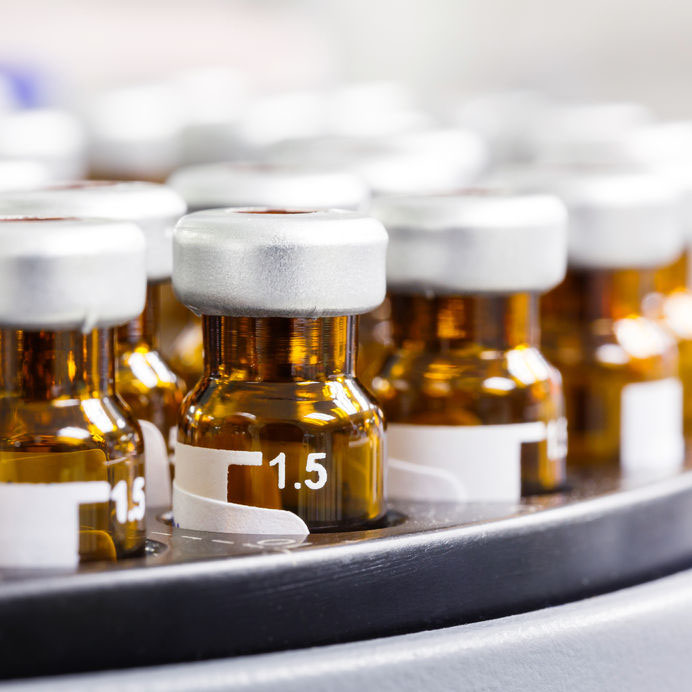 New research emerging from University of British Columbia has found that aluminum adjuvant injected into mice can alter the expression of genes associated with autoimmunity. And in their recent study published in the Proceedings of the National Academy of Sciences, immunologists at the University of Colorado found that even host DNA is recruited into the aluminum assault, that it rapidly coats injected alum, triggering effects that scientists have barely scratched the surface of understanding.
THE SIGNIFICANCE OF MACROPHAGIC MYOFASCIITIS
This mobility or "translocation" of aluminum in the body is perhaps the most disturbing of the mounting evidence in current aluminum research. In 1998, French researcher Romain Gherardi and his colleagues observed an emerging condition of unknown origin which presented in patients post-vaccination with Chronic Fatigue like symptoms including swollen lymph nodes, joint and muscle pain and exhaustion. Tissue biopsies of the patients' deltoid revealed lesions up to 1 cm in diameter and unique from similar lesions of other diseases. They went to the lab for analysis and to Gherardi's astonishment, they mainly consisted of macrophages – large white blood cells in the immune system whose job is to swallow up foreign invaders in the body. Enclosed in the cellular fluid of these phagocytes were agglomerates of nanocrystals of aluminum.
Gherardi and his colleagues began injecting mice with aluminum to see what happened. Theirresearch published in 2013 revealed that the metal particles were engulfed by macrophages and formed MMF-like granulomas that dispersed — to distant lymph nodes, spleen, liver and eventually brain.
"This strongly suggests that long-term adjuvant biopersistence within phagocytic cells is a prerequisite of slow brain translocation and delayed neurotoxicity," writes Gherardi in his February 2015 review of the relevant research in Frontiers in Neurology.
A more frightening animal study of aluminum is that of Spanish veterinary researcher Lluis Lujan's study of ovine ASIA. After huge numbers of sheep in Spain died in 2008 in the wake of a compulsory multiple vaccine campaign against bluetongue in Spain in 2008, Lujan set out to find out what killed them – and he began by inoculating them with aluminum.
His 2013 study found that only 0.5% of sheep inoculated with aluminum vaccines showed immediate reactions of lethargy, transient blindness, stupor, prostration and seizures – "characterized by a severe meningoencephalitis, similar to postvaccine reactions seen in humans."  Most of them recovered, temporarily, but postmortem exams of the ones who didn't revealed acute brain inflammation.
The delayed onset "chronic" phase of the disease affected far more of the sheep — 50-70% of flocks and sometimes virtually 100% of animals within a given flock, usually including all of those who had previously recovered. The reaction was frequently triggered by exposure to cold and began with restlessness and compulsive wool-biting, then progressed to acute redness of the skin, generalized weakness, extreme weight loss and muscle tremors, and finally, entered the terminal phase where the animals went down on their front quarters, became comatose and died. Post-mortem examinations revealed "severe neuron necrosis" and aluminum in the nerve tissue.
The immune system's reaction to aluminum "represents a major health challenge," Gerhardi declares in his recent review, and he adds that "attempts to seriously examine safety concerns raised by the bio-persistent character and brain accumulation of alum particles have not been made… A lot must be done to understand how, in certain individuals, alum-containing vaccines may become insidiously unsafe."
Back to the problem of which "certain individuals" should avoid vaccination to avoid autoimmune disease.
PEOPLE PRONE TO DEVELOP AUTOIMMUNITY
Soriano and Shoenfeld's identify a final category: anyone at risk of developing autoimmune disease. Since a number of them have been shown to have genetic factors that would include anyone with a family history of autoimmune disease. It also includes anyone who has tested positive for autoantibodies which can indicate disease years before symptoms show up.  Vaccinations, the doctors say, "may trigger or worsen the disease."
Smokers too, have an exceptionally high risk of developing an autoimmune disease, says the report. The American Cancer Society estimates that about 18% of Americans smoke. That means about 42 million Americans have an elevated risk of developing an autoimmune disease and they're stacking the odds with every vaccine.
And finally, factors that Shoenfeld and Soriano associate with high risk of developing autoimmunity are high estrogen and low vitamin D —  which means anyone taking birth control or hormone replacement therapy and, according to one 2009 study of vitamin D status, about three quarters of American teens and adults should be wary of vaccines.
Shoenfeld doesn't seem to mean to exclude all of these people from immunization, however. The paper concludes that "for the overwhelming majority of individuals, vaccines carry no risk of systemic autoimmune disease and should be administered according to current recommendations." Which is in stark contrast to the body of the paper. The final word is cautionary about weighing the "potential benefit of vaccination…against its potential risk."
It's exemplary of a strange sort of schizophrenia in a wide range of recent immunology papers. The doctors seem to be trying to reconcile a century of "safe and effective" vaccine dogma with the last decade's worth of terrifying research findings. There's a lot of "on the one hand" and "on the other hand" in them.
The new research seems about to gain the upper hand, however. A 2013 overview of ASIA by six immunologists including Shoenfeld, for example, is a catalogue of vaccine side effects from Gardasil deaths, narcolepsy epidemics, infertility, chronic fatigue, dead sheep and aluminum-addled brains. It is rife with statements that would have been virtually unheard of inside mainstream medicine a decade ago. Like this shocker:
"Perhaps, in twenty years, physicians will be dueling with better characterized particles of autoimmunity, and the vaccines may become fully safe as well as effective. Nonetheless the recognition of ASIA has initiated the change to put more efforts in identifying the good, the bad and the ugly of vaccines and in particular of adjuvants as triggers of autoimmunity." Bad and ugly of vaccines? What's wrong with the adjuvants? That's not in the CDC hand-out.
Or how about this one:
"Despite the huge amount of money invested in studying vaccines, there are few observational studies and virtually no randomized clinical trials documenting the effect on mortality of any of the existing vaccines. One recent paper found an increased hospitalization rate with the increase of the number of vaccine doses and a mortality rate ratio for 5-8 vaccine doses to 1-4 doses of 1.5, indicating a statistically significant increase of deaths associated with higher vaccine doses. Since vaccines are given to millions of infants annually, it is imperative that health authorities have scientific data from synergistic toxicity studies on all combinations of vaccines…" That could be any anti-vaxxer jabbering on…but it's not.
But here is the topper:
"The US Supreme Court ruled that vaccines makers are immune from lawsuits charging that the design of the vaccine is defective. Thus there is need for innovative clinical trial design and the vaccines themselves should be redesigned." Immunologists including the world's leading authority on autoimmunity are saying it is time to take vaccines back to the drawing board.
Autoimmune disease is the third leading cause of morbidity and mortality worldwide and now among the top 10 killers of young American women.  The American Autoimmune Related Diseases Association estimates that 50 million Americans suffer from one of 88 autoimmune diseases — from type 1 diabetes to systemic lupus erythematosus — and some research puts the figure at one in five globally. At least 40 more diseases are suspected to be immune-mediated. Most of them are devastating — frequently crippling, expensive to treat and incurable. And they are increasing at an astonishing pace.
At this stage, it looks like the more the research pours in, the harder it is going to get for pro-vaccine immunologists to keep multiple personality disorder – or complete nervous breakdown  — at bay. Ten years of cutting edge research into aluminum's effects on the immune system has revealed primarily how wrong they were. And how little they know.  If, after 90 years, doctors finally have begun to seriously examine the mechanism and question the merits of injecting metal toxins into newborn babies, what have they yet to discover? ASIA sounds awful. (Too bad for all the people whose kids suffered through chronic fatigue when it was just a Freudian yearning to sleep with their mother.) But what if, like Lujan's sheep, the "negligible" minority that has been paying the price for the good of humanity is actually only the tip of the iceberg? What if some people with no apparent adverse immune reactions still have nanocrystals of aluminum silently depositing in their brains? What if ASIA really includes Alzheimer's? ALS, autism? ADD? And that's just the A's.
Even if immunologists keep wearing their rose coloured glasses, and vaccine ingredients are only responsible for a tiny fraction of the exploding autoimmunity, the "ugly" in vaccines will still get harder and harder to ignore. When everyone on the planet is getting injected, 20 years is a long time for disabled people to stack up while scientists "duel with the characterized particles of autoimmunity." In the fury over the Disneyland measles outbreak that is gripping the world's vaccine promoters, time is running out for doctors and researchers who see the "bad and ugly" side of vaccines and their adjuvants to do something about it. There's slim chance of a vaccine redesign in the absence of a profit incentive and a strong chance of universal vaccine mandates for one and all — previous anaphylactic shock reaction or not.
Written By: