Dear VCC Community,
I've stated repeatedly that this is not the Great Reset, but rather the Great Reveal. This week was a clear demonstration of this. The speeches at Nuremberg acknowledging the 75th Anniversary of the Nuremberg Trials were powerful reminders of past tyranny and a revealing of the tyranny we face today. Yet, in spite of these reminders and admissions of "mistakes" by the CDC and others, universities in Canada continue to impose vaccine mandates that violate the fundamentals of the Nuremberg Code.
What is clear is that this insanity will not be ended by our governments and captured institutions, but rather by 'we the people'. No one will save us from tyranny other than ourselves. This is our time to defend our rights, freedoms, and the truth. We're the ones we've been waiting for.
Ted
News Nuggets of the Week as selected and edited
by VCC's Research Team
Children and teen vaccination rates began plummeting with the onset of the pandemic, and as concerns surfaced around the safety of COVID-19 vaccines, some parents also began questioning the need for the long list of other vaccines recommended by public health officials. Read HERE
Andrew Wakefield Was Right    
Dr. Andrew Wakefield challenged the status quo and paid the price for telling the truth. He exposed the fact that all childhood vaccines are dangerous. Read HERE
I admire the unvaccinated for withstanding the greatest pressure I have ever seen, even from partners, parents, children, friends, colleagues and doctors. Read this inspiring message HERE
Rise and Fall of Fauci
Illustrates Death of 'Expertise'    
Of all the institutions that have become radicalized in the last couple of years, the realm of medicine is perhaps the most disturbing. What will our society look like when you can't trust the Centers for Disease Control and Prevention, or even your doctor? Read HERE
Vera Sharav's Speech at Nuremberg
Vera Sharav, Holocaust survivor and human rights advocate, speaks at the 75th Anniversary Event of the Nuremberg Codein Nuremberg, Germany, on August 20, 2022. VIDEO
Patient Betrayal
The Corruption of Healthcare  
Dr. James Thorp – on the patient betrayal, informed consent, the physician-patient relationship and the corruption of healthcare.
42 Doctors in 9 minutes – May this video help us to wake up more innocent people, save more lives, and restore justice. VIDEO
David Icke – What It Is, How It Works, and How We Escape. David Icke wants us to stand up and think for ourselves. We must stop taking life for granted, and start questioning who we are and why we're here?
No Time to Attend Our Great
VCC Live Zoom Calls With Our Guests!
You can now listen to some of our most recent guests on your favourite device. Don't miss scrolling down to our Podcast Section to check out our new Podcast entitled, "Up to Everyone".
Youth Cannot Be Mandated
To Get COVID-19 Vaccine
An Ontario Court ruled – "Requiring her to be vaccinated against her will would not respect her physical, emotional and psychological safety, security and well-being but would in fact put her at risk of serious emotional and psychological harm." Read HERE
Open Letter to University of Toronto

CCCA – "Your requirement for COVID-19 vaccination of students living in University residencies fails to acknowledge any degree of natural immunity. The doctrine of informed consent demands that students be made aware of this realization."  Read HERE
Western University Requires
COVID-19 Booster and Masking        
For an institution of 'higher' learning and critical inquiry, this requirement is patently absurd and rooted in the irrefutable principle of 'follow the money'. Listen on TWITTER
Manitoba Ends Monthly Reports
Of COVID Deaths       
Manitoba public health agency stopped reporting COVID deaths when data revealed that unvaccinated individuals were 40% less at risk of COVID-19-associated death than fully vaccinated individuals. Read HERE
Crown Drops Charges Against
Freedom Convoy Protestors
The Crown has stayed charges against seven Freedom Convoy protestors due to a lack of evidence. Read HERE
Mercola on Uninformed Consent
Dr. Mercola writes – I hope you'll take the time to watch "Uninformed Consent" and share it with others. It is a film that helps open the eyes and minds of those who still cannot see what's happening, or don't fully believe what they're seeing. Read HERE
Those Who Violated Nuremberg Code
Must Be Prosecuted
For Crimes Against Humanity
Remarks delivered by Mary Holland, Children's Health Defense president and general counsel, on Aug. 20 in Nuremberg, Germany, to commemorate the 75th anniversary of the Nuremberg Code. Read HERE
How Many People Have Been
Killed by their Governments?
Steve Kirsch – It's around 12M. That is 40X the number of Americans who were killed in World War II. It's more than double the number killed by COVID. Read HERE
Canada to Launch Federal
Digital ID Program
Canadian government officials plan to launch public consultations on a digital ID framework for federal government services but have not yet announced when. Read HERE
VCC LIVE BROADCASTS
THROUGH THE WEEK

Thu, Aug 25, 6:00 pm PT/9:00 pm ET

Nurturing the Warrior – Part II 
This evening, hosted by Alan Brough of Canada Health Alliance, brings together experts to nurture the warrior within.
Co-author of 'Dissolving Illusions:
Disease, Vaccines & the Forgotten History'
Roman Bystrianyk has been researching the history of diseases and vaccines since 1998. He has an extensive background in health and nutrition as well as a B.S. in engineering and M.S. in computer science. He is co-author of the ground-breaking book Dissolving Illusions: Disease, Vaccines and the Forgotten History with Dr. Suzanne Humphries. He just published Moving Back from Midnightwith co-author Kate Schmutter, available now on Amazon.
Thu, Sep 1, 8:30 pm ET

note time change
James Roguski & Dr. Rima Laibow
Our scheduled open discussion will host a special presentation this week. Vaccine Choice Canada is proud to bring back James Roguski, a man determined to fight the WHO and expose their hidden agenda. WHO is conducting secret negotiations with delegates from every member nation. The delegates are being coerced into surrendering your personal and national sovereignty over to the WHO.
For more information, go to: StopTheWho.com. James will be joined by Dr. Rima Laibow.
Rima E. Laibow, M.D. is the Medical Director of the Natural Solutions Foundation. She believes passionately in the right of every American to choose a personal health path that is free of government or corporate interference. https://drrimatruthreports.com. Dr. Rima's presentation on the WHO is: "Storytelling For Survival – Effective Strategies for Change".
Join us to catch up with each other and share stories of action and encouragement. Our Open Discussion meetings take place bi-weekly.
Parents with Questions is a monthly event that takes place the first Wednesday of each month whereby we invite parents to ask their questions. This initiative is a collaboration with Canada Health Alliance, Canadian Frontline Nurses and Vaccine Choice Canada. Bring your questions about childhood illness, vaccines, health and wellness. Our goal is to help young parents and parents-to-be navigate the mixed messages about health and childhood vaccines.
Find the links to upcoming VCC Live broadcasts on our homepage. Just hit the VCC LIVE block and see a list of our upcoming open discussion sessions and inspiring guest speakers. Mark your calendars! Then register with us close to the meeting date as each broadcast is activated.
Q&A with Canadian Covid-Truth Leaders
Doctors Hoffe, Malthouse, Lindley, Shoemaker, and Trozzi; VCC's Ted Kuntz, Pharma Expert Alan Cassels, and Uninformed Consent Movie Director Todd Harris. This Canadian expert panel answers questions from participants in 318 states and 85 countries. VIDEO
Anita Krishna Interview on Uninformed Consent
Anita Krishna Interviews – Todd Harris, Dr. Stephen Malthouse and Ted Kuntz about Uninformed Consent. VIDEO
University Overreach, Natural Immunity
& Effective Treatments
Dr. Steven Pelech addresses the concerns of many students and young people who received COVID vaccines, and why young people are right to have such concerns. VIDEO
Is the Great Reset Happening?
Robert Kiyosaki – Klaus Schwab, Henry Kissinger, heads of state, and other billionaire power brokers determined that by 2030, the little people "will own nothing and be happy." Robert Kiyosaki explains that these ideologies are both dangerous and evil. VIDEO
The Lies of COVID Vaccine Immunity
A montage of video clips of the lies disseminated by our government, public health and media. How wrong they were.VIDEO
"They Lied to Us About the MRNA Shots"  
Florida Governor Ron Desantis. VIDEO
Is Polio Real? Of Course It Is … Right?   
Or is that just what we've been told? What's the truth about polio?  VIDEO
We invite you to enjoy our past and future VCC Live Guests in audio version on our new podcast platform entitled "Up to Everyone".  You can access our first set of podcasts here at:
https://podcast.uptoeveryone.com/
You can also access our podcast from our website menu at:
https://vaccinechoicecanada.com/
Check back often as we are adding new podcasts of our new guests regularly.
From Our Podcast Library
'Putting Our Children At Risk'
James Roguski speaks with VCC about the FDA's own data that highlights the fraud which was presented to the Vaccine Advisory Committee in June 2022, yet they still voted to authorize the shots for children and infants as young as 6 months old. James will be our guest again on Thu, Sep 1. Listen HERE
RFK Jr. Tells Us What to Make
of Fauci's Resignation
This week we are asking to rate your experience from watching Uninformed Consent. Click the button below to begin:
Dr. Shoemaker's Call to Action
Regarding Covid Vaccine for Children 
Valuable information in everyday language to help parents make an informed choice on whether or not to give their children a COVID-19 genetic vaccine. Please share with parents in your network. RESOURCE
Screen and Share Uninformed Consent 
This film by Canadian filmmaker Todd Harris is an in depth look into the Covid-19 narrative, who's controlling it and how it's being used to inject an untested, new technology into almost every person on the planet. It explores our recent loss of human rights, while weaving in the devastating impact of mandates and the deeply powerful story of one man's loss. Please share with your family, friends and colleagues.
Watch here: https://librti.com/uninformed-consent
Website: https://uninformedconsent.ca/
FREEDOM RISING Newsletter #11
Please read, then share with your family and friends.
Freedom Rising invites you to share events and action items with our community. Go to Submit Action/Event.
Called to Action – Register
To Be a Take Action Responder
The Called to Action platform developed by Take Action Canada is an important tool to enable those in the freedom movement to connect with one another and to respond quickly to a call to action. Responders will be engaged based on one's postal code.
To register: https://calledtoaction.org
Help Distribute the Medical Doctor Package  
The Health & Science team of the Kelowna Unity group has developed a MEDICAL DOCTOR PACKAGE that helps educate medical professionals and brings awareness of vaccine injury.
https://unitymovement.ca/health-sciences/
Our "Up To Everyone" E-Commerce Store 
Check out our store at UpToEveryone.com – Books, merchandise, postcards, banners, bumper stickers and more.
Now, more than ever, it is critical that we invest in our rights and freedom. Support organizations that support our freedom. Let's leave our children a society with rights and freedoms, honesty and accountability. Donate today so we have freedom tomorrow. Your money will be worthless in a social credit controlled society.
SHARE the Choice Insider with Another
– Let's Get the Truth Out There!
Should You Get Any Vaccines? 
The data shows the more you vax, the sicker you are. If you took 100% of the vaccines they want you to take, you're about 10X more likely to have medical issues. That's not a typo: 10X, not 10%!  Read HERE
Risk of COVID Vaccine is
Greater Than Risk of Infection
Latest UK study openly states the risk of the Covid-19 vaccine is greater than the risk of Infection for  those under 40 years,AND it openly acknowledges the deaths after vaccine-induced myocarditis.
Read HERE
In 1957 sociologist Albert Biderman developed a framework for understanding the methods of coercion. This is Biderman's Chart as applied to how governments are using the same tactics to manipulate and coerce the masses today. Download HERE
The Liberal Government Has Been Playing Politics
with Canadian's Fundamental Rights 
According to Keith Wilson a lawyer with the freedom convoy,the Liberal government has been playing politics with Canadians fundamental charter of rights. This should be front page news. VIDEO
Covering news and information that mainstream media won't. Read HERE
Our objective is to prosecute the participants of the criminal organization for those crimes, to obtain justice, and to achieve monetary relief for the millions who have been injured and who have died at their hands. We stand for, protect, and defend humanity, you, our brothers and sisters, fellow citizens of this earth. Read HERE
Pandemic Politics & America's Covid Cartel 
In this mind-blowing interview, Senator Ron Johnson exposes the dirty pandemic politics that drove America's Covid Debacle. Senator Johnson says, "The truth is the way – it has its own power". VIDEO
Dr. Richard Pan Persists In Deception
& Violating Parental Rights
Pan continues to claim the COVID injections are safe for teens and wants to allow teens to decide without parental consent. VIDEO
HOLDING GOVERNMENTS ACCOUNTABLE
Our Leaders Have Destroyed Lives
Thoughts on the Nuremberg Code's
75th anniversary
Based on – RFK Jr.'s indictment of Anthony Fauci, I personally believe that Fauci is as morally culpable of crimes against humanity as the Nazi doctors who were sentenced to death were based on the evidence adduced against them in this trial. Read HERE
Veteran4Freedom – This Heritage Minute features V4F removing the fencing around the war memorial in Ottawa in February 2022. Read HERE
The UnCommunist Manifesto:
A Message of Hope, Responsibility and Liberty for All 
Marx and Engels outlined the world as "a struggle between two classes". We reject this and assert that the real struggle is between individual autonomy, sovereignty, and responsibility versus the collectivist tendency toward group identity politics, rights, entitlements, and co-dependencies. Between cooperation and coercion. It always has been. It is available HERE
The steering committee for the World Council for Health invites you to their Weekly General Assembly held every Monday at 11:00 AM PST / 2:00 PM EST. To receive a link for the meeting go to: https://worldcouncilforhealth.org/newsroom/
Bringing Light to the Darkness 
Many communities across Canada are stepping forward to assist in the healing process through a series of public Candlelight Vigils, where all those who have been hurt, marginalized and discredited can share their story and be supported. For an updated listing of dates and locations:
https://canadahealthalliance.org/candlelight-vigils/
If you would like to host a vigil in your community, please email: candlelightvigils@protonmail.com  
Mon, Sep 5, 12:00 ET (monthly)

GROWING SEEDS of CONNECTION
How can we connect personally so as to bring forth our most courageous, and human selves in a time of incredible change? We explore what's coming as opportunities for connection, new directions and growth. Make yourself a cup of your favourite hot brown drink and come join us! Co-hosted by VCC member, Andrew MacDonald, and board members, Joel & Margaret Sussmann. The next monthly Zoom session will take place on Monday, Sep 5th, from 12:00 pm to 1:30 pm ET. Participation is by registration only and will be available in the next Choice Insider.
VACCINE SAFETY AWARENESS MARATHON
For the schedule of speakers and times on James Lyon-Weiler's substack – Read HERE
Three back-to-back events in Ottawa are designed to recognize the burdens carried by every Canadian. To encourage the reconciliation and reunification of families, friends and communities to heal from the past two and half years.
Website: https://thewomenaregathering.com
DID YOU MISS A LIVE BROADCAST?

How I Decided to Go Vaccine Free – Aug 24
VCC hosted – Guest: Deanna McLeod
Video Link: Coming soon
PURE BODY EXTRA DETOX SPRAY
In just 30 seconds a day, this tasteless, odorless liquid can rid your body of toxins and heavy metals leading to better sleep, sharper focus and increased energy in as little as one week. Use the sales link below to receive your first 30 day supply for $14.00, available with your first monthly product subscription. (Funds in USD) To learn more about this product, listen to our previous VCC Live guest, Eddie Stone, CEO and Founder of Touchstone Essentials. VIDEO
Pure Body Extra Sales Link: https://vaccinechoicecanada.TheGoodInside.com/pbx-trial-offer-224896
DID YOU MISS READING AN ISSUE?

Use the link from our website below to share our latest CHOICE INSIDER newsletter as well as back-issues full of informative content.
Vaccine Choice Canada has been serving Canadians for 40 years. We exist thanks to the efforts and support of its members.
If you are not a member of VCC yet, please,
consider joining the vaccine choice movement.
Our right to medical choice was never more important.
Together, we can do so much more.
Become a Member of VCC.
LISTING OF CHAPTER CONTACTS
Green peas are part of the legume family and have been part of the human diet for hundreds of years around the world. They are a  complex carbohydrate, are high in protein and possess a wide array of vitamins and minerals. They love to climb and create a beautiful backdrop in your garden that makes them easy and fun for children young and old to enjoy picking their pods and eating their crunchy and refreshing peas inside.
NEWS NUGGETS
"QUOTE OF THE WEEK"
A note about privacy – by registering you agree to participate in a Zoom call open to member, subscribers and their contacts. Information shared during the Zoom call is available to all participants, including images, your name, chat or oral comments and questions. Please use your own discretion since VCC cannot guarantee your privacy. Suggested steps you can take if this is a concern: please consider using your first name only or an alias; keep your video off; and refrain from sharing personal identifying details in the chat.
Vaccine Choice Canada is a federally registered, volunteer run, not-for-profit educational society dedicated to helping families make voluntary, fully informed, and health-conscious choices. This information is for educational purposes and is not intended as legal, health or medical advice.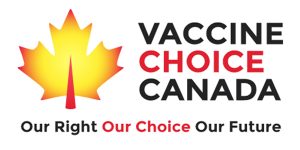 –   Come Like Us on Facebook  –  Check us out on  Instagram  –
– Sign Up for our Newsletter  –