What Working Out In A Fasted State (Not Eating) Does To Your Muscles
By Arjun Walia
It's really unfortunate that we don't hear about something in the field of medicine unless it can make a profit. That's exactly what seems to be happening right now, with a boat load of research that's emerged over the years about fasting and caloric restriction, as well as all of the benefits it can have if done properly, you'd think something like this would be more mainstream by now, but it's not.
Many physicians are also completely unaware of the research and results that clinical trials have yielded.
Below is a great quote I've used multiple times when writing about fasting, it comes from Mark Mattson, the current Chief of the Laboratory of Neuroscience at the National Institute on Aging. He is also a professor of Neuroscience at The Johns Hopkins University, and one of the foremost researchers of the cellular and molecular mechanisms underlying multiple neurodegenerative disorders, like Parkinson's and Alzheimer's disease. His research has shown that fasting can have tremendous benefits on the brain, especially for people with neurodegenerative disorders.
"Why is it that the normal diet is three meals a day plus snacks? It isn't that it's the healthiest eating pattern, now that's my opinion but I think there is a lot of evidence to support that. There are a lot of pressures to have that eating pattern, there's a lot of money involved. The food industry — are they going to make money from skipping breakfast like I did today? No, they're going to lose money. If people fast, the food industry loses money. What about the pharmaceutical industries? What if people do some intermittent fasting, exercise periodically and are very healthy, is the pharmaceutical industry going to make any money on healthy people?"
He said this in a Ted talk where he goes more into detail about that, you can read more about that here. It really went viral, as it should have, because the information is super fascinating.
This is a great point, there's really no money at all in fasting for the medical industry, which makes it clear why something that science is showing to have tremendous amounts of health benefits, benefits that could be revolutionary for the health of so many people suffering from so many different ailments, is ignored.
I've also come across information suggesting that researchers, in partnership with the pharmaceutical company, are developing pills that actually mimic the effect that fasting has on the body. The day money stops being the medical industry's prime motivation, is a day I look forward to. Organizations on our planet who have amassed 'power' that actually care about the human race and our overall health. Right now, it doesn't seem to be a concern.
A Brief Overview Of What's Going On In The World of Fasting
"Caloric restriction (CR) is currently the most robust environmental intervention known to increase healthy life and prolong lifespan in several models, from yeast to mice. Although the protective effect of CR on the incidence of cancer is well established, its impact on tumor cell responses to chemotherapeutic treatment is currently being investigated. Interestingly, the molecular mechanisms required to extend lifespan upon reduced food intake are being evaluated, and these mechanisms may offer new opportunities for therapeutic intervention. In addition, new findings suggest a beneficial effect of CR in enhancing the efficiency of tumor cell killing by chemotherapeutic drugs and inducing an anticancer immune response." (source)
Fasting has a number of benefits. This is exactly why the Ketogenic diet is so popular right now. It turns out, our body is meant to burn fat! If we are constantly eating, we're constantly supplying our body with glycogen, this is the body's main fuel source for most people. When these reserves run out, the body begins to run off ketones, which has a number of health benefits, including destroying cancer. Many people with cancer today are having success with the ketogenic diet and fasting as a treatment for cancer. There are no shortage of studies of what fasting does to cancer cells combined with chemotherapy treatment, but it's quite odd how there have been no studies or clinical trials for fasting, without the chemotherapy treatment…
Studies have also shown prolonged fasts have the ability to regenerate the entire immune system, repair damaged DNA and more. It severely limits the process of age related diseases, and prolongs life in a variety of ways.
There is a lot of science on this subject, and we've written about it in depth for a long time. It's really important to do your research and this field, and since we've presented it so much there is no point writing it all down again.
For example, a recent study published in the journal cell shows how a fasting diet can trigger the pancreas to regenerate itself, which works to control blood sugar levels and reverse symptoms of diabetes.
Instead, you can refer to these articles we've published previously on the topic, they're full of links to the actual publications that you can go through and examine for yourself if interested
Doctor Explains What Happens To The Human Body When It Goes Into Ketosis
Study Shows What A Ketogenic Diet Did To Mice With Systemic Matastatic Cancer 
The Complete Guide To Fasting & Reversing Type 2 Diabetes: A Special Interview With Dr. Jason Fung
(Dr. Fung recently published a book, co-authored with Jimmy Moore, titled "The Complete Guide to Fasting: Heal Your Body Through Intermittent, Alternate Day, and Extended Fasting" It's a great book that puts to rest the fears and myths associated with extended water fasting. He also recently published "The Obesity Code: Unlocking The Secrets of Weight Loss")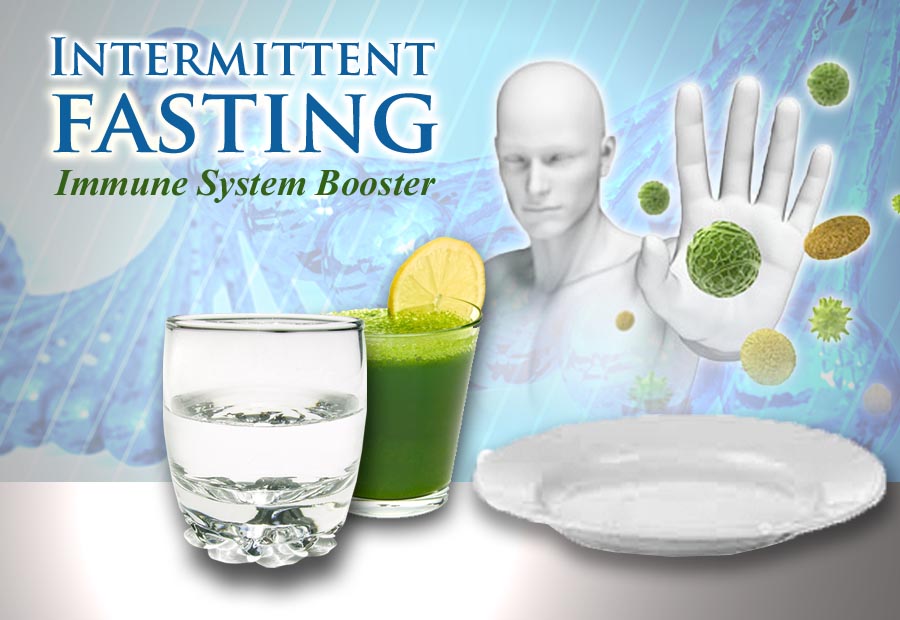 There is absolutely no evidence, for the average person, that fasting can be dangerous. If you're on prescription medication, or experience other medical problems, then there are obviously exceptions. But it's quite clear that the human body was designed to go long periods of time without food, and that it's completely natural.
Repeated and consistent results have shown how eating less food overall, eating healthier, and eating less frequently can have a number of significant beneficial effects on a large array of biological functions and systems. Almost 10 years ago now, a scientific review of multiple scientific studies on fasting was published in The American Journal of Clinical Nutrition. It examined a multitude of both human and animal studies and determined that fasting is an effective way to reduce the risk of cardiovascular disease and cancer. It also showed significant potential in treating diabetes. (source)
A study in the June 5 issue of Cell Stem Cell a couple of years ago shows that cycles of prolonged fasting protect against immune system damage (a major side effect of chemotherapy) and induces immune system regeneration. The study conducted tests on both mice and humans. You can read more about that and access a link to the study here.
Fasting While Working Out
"It seems that there are always concerns about loss of muscle mass during fasting. I never get away from this question. No matter how many times I answer it, somebody always asks, "Doesn't fasting burn your muscle?" Let me say straight up, NO."  – Dr. Jason Fung, a Toronto based nephrologist, he completed medical school and internal medicine at the University of Toronto before finishing his nephrology fellowship at the University of California, Los Angeles at the Cedars-Sinai hospital. He joined Scarborough General Hospital in 2001 where he continues to practice and change peoples lives.
Dr. Fung outlines a critical point. When you fast, and deplete all your glycogen, your body is going to start using fat for energy, it's going to used damaged cells for energy, it's basically going to use all of the bad things first, before it gets to the good thing…Your body will not burn protein, as protein is not a fuel source and while fasting, Dr. Fung explains how your protein is actually the last thing to go, because it's so important.
"Muscle gain/ loss is mostly a function of EXERCISE. You can't eat your way to more muscle. Supplement companies, of course, try to convince you otherwise. Eat creatine (or protein shakes, or eye of newt) and you will build muscle. That's stupid. There's one good way to build muscle – exercise. So if you are worried about muscle loss – exercise. It ain't rocket science. Just don't confuse the two issues of diet and exercise. Don't worry about what your diet (or lack of diet – fasting) is doing to your muscle. Exercise builds muscle. OK? Clear?"
Fung makes it clear that fasting does not burn your muscle, unless you take it to the very extreme level, and that's something he and us are NOT recommending here.
"So the main question is this – if you fast for long enough, doesn't your body start to burn muscle in excess of what it was doing previously in order to produce glucose for the body. Hell, no. Let's look carefully at this graph by Dr. Kevin Hall from the NIH in the book "Comparative Physiology of Fasting, Starvation, and Food Limitation". Great title guys. Amazon probably couldn't keep enough stock on the shelves."
The graph below depicts what happens to your protein while fasting.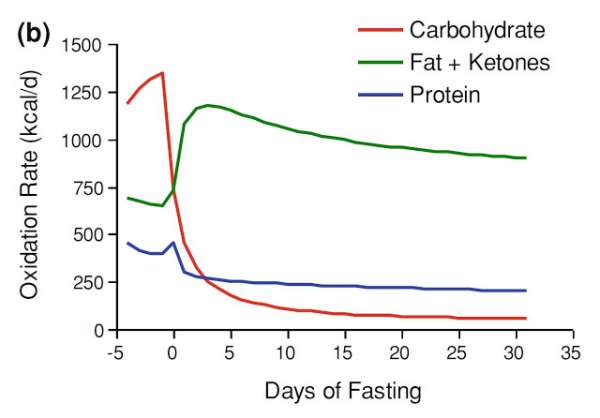 The graph shows where the energy to fuel our body comes from, from the start of the fasting period to approximately 30 days into it. At the start, our fuel comes from a mix of carbs, fat and protein. After this, carbs are burned quite fast, until the body enters into fat burning mode, where it's producing ketones (article linked earlier in this one with more on that).
"What happens to protein? Well, the amount of protein consumed goes down. There is certainly a baseline low level of protein turnover, but my point is that we do not start ramping up protein consumption. We don't start burning muscle, we start conserving muscle."
Interesting, isn't it? It makes you wonder how many other beliefs we accept as pure fact when it comes to medicine, without ever really questioning anything. Perhaps this is the reason why disease rates continue to rise, corporate America, unfortunately,  is what controls government, which is who controls our healthcare. There is no incentive at all to keep a healthy population…
"Sometimes you will hear a dietician say that the brain 'needs' 140 grams of glucose a day to function. Yes, that may be true, but that does NOT mean that you need to EAT 140 grams of glucose a day. Your body will take the glucose it needs from your fat stores. If you decide to EAT the 140 grams instead, your body will simply leave the fat on your ass, hips, and waist. This is because the body will burn the sugar instead of the fat."
In 2010, there were a group of researchers who examined a group who underwent 70 days of alternate day fasting *ADF). They ate normal one day, and then fasted the next. Thee results? Their fat free mass started off at 52.0 kg and ended at 51.9 kg. In other words, there was no loss of lean weight (bone, muscle etc.). There was, however, a significant amount of fat lost. So, no, you are not 'burning muscle', you are 'burning fat'.
"Why would your body store excess energy as fat, if it meant to burn protein as soon as the chips were down? Protein is functional tissue and has many purposes other than energy storage, whereas fat is specialized for energy storage. Would it not make sense that you would use fat for energy instead of protein? Why would we think Mother Nature is some kind of crazy?That is kind of like storing firewood for heat. But as soon as you need heat, you chop up your sofa and throw it into the fire. That is completely idiotic and that is not the way our bodies are designed to work."
Researchers from McMaster University also published a study showing that caloric restriction combined with exercise did not deplete muscle, and those who consumed enough protein actually saw gains. The authors emphasized how exercise, particularly lifting weights, provides a signal for muscle to be retained even when you're in a big calorie deficit.'  The group that did not have a lot of protein during calorie restriction didn't see any muscle gains, but experienced no muscle loss.
Protein and eating after a workout when you've fasted prior is important for muscle growth. But some people would be fine continuing their fast, keeping protein intake down, thus lowering their IGF-1 growth hormone levels (which also happens when you fast). When this happens, your body is in autophagy, damaged cells are repairing themselves and your body is eating what it wants to get rid of. It's a very healthy process that you can learn more about here.
I could literally go on and on, you're not going to lose muscle. I am someone who constantly exercises at the end of a 15-24 hour fast, and then I feed after. So far the results have been great and working out in a fasted state, for me, when I am most energized. But everybody is different, you just have to find what works for you. I have been fasting for more than 10 years so my body has adjusted and it is quite used to it, and to me, it feels like it prefers it, especially when I can keep on track.
How To Fast If You've Never Done It Before 
One recommended way of doing it, which was tested by the BBC's Michael Mosley in order to reverse his diabetes, high cholesterol, and other problems associated with his obesity, is what is known as the "5:2 Diet." On the 5:2 plan, you cut your food down to one-fourth of your normal daily calories on fasting days (about 600 calories for men and about 500 for women), while consuming plenty of water and tea. On the other five days of the week, you can eat normally.

Another way to do it, as mentioned above, is to restrict your food intake between the hours of 12pm and 7pm daily, while not eating during the hours outside of that time.
There are also prolonged fasts, and different types of fasts out there, but generally, the above is a good starter and will give you time to practice while you further your research if interested.
If you want to work out, doing it at the end of your intermittent fast and then eating is perfect. At least that's what I find from my own experience.
Come Follow Us on Twitter  https://twitter.com/TheNewAgora
Come Like Us on Facebook  https://www.facebook.com/4thenewagora/
And Sign Up for our Newsletter   https://mailchi.mp/7de35b29504b/thenewagora-thenewnow-fanlist