Hitler's Hideaway in Northern Poland
In the summer of 2020, I was traveling in Poland, Lithuania and Latvia.  Fortunately, I was already living in The Czech Republic, so when the borders within Europe opened on July 1st, I was able to get on a sparsely seated train to Krakow, Poland.  I wanted to see how others were reacting to covid, along with see the beautiful sites I would be drawn to explore.  Mostly people were traveling inside their countries rather than venturing beyond borders.  I definitely met others who weren't as concerned about the virus.  They knew from years of war, and governmental deception that this pandemic wasn't measuring up to the excess amount of fear being broadcasted.  Nonetheless, Poland was trying to efficiently enforce safety protocols in the bigger cities rather than be subjected to what I figured would cause Catholic guilt to flare up.
Poland has such beautiful places to explore.  They have everything to enjoy from mountains, lakes, amazing cathedrals, picturesque quaint towns and of course WWII history.  At some point I saw brochures about Wolf's Lair in Northern Poland.  What an appropriate name: a hideaway for a predator like the Nazis.   We are told that Wolf's Lair was a reclusive campground built by the Nazis during WWII to house the Gestapo and make plans during the war.  Wikipedia says it took them about a year to build.  It housed about 2,000 and was remote enough to avoid discovery and infiltration.  Wikipedia also has photos of officials who were supposedly associated with the war schemes.  But there aren't many photos at all of activity or construction happening at this place during the war.  Could there be so few photographs shown because of protecting secrecy during the war?  Or perhaps it is because the story around Wolf's Lair is questionable?  After seeing pictures of the enormous structures on brochures there, I knew I had to check this secluded place out.  From the beautiful Baltic Sea city of Gdansk, tour prices to get there seemed inflated and involved more hours of travel than I had anticipated.   I decided I would venture on to a cute lakeside town to stay for a few days and plan my journey from there.  I ended up renting a bike from my hotel and taking a train to the nearest station possible to then bike thereafter.  The day I planned on going was forecasted to have beautiful pristine weather in the 60s, so I felt capable of biking the 5 miles one way to get there.  Despite Poland not having bike paths, and knowing I would probably piss off some drivers along the way, I was determined to get to Hitler's hideaway and keep an open mind.
Along the way, there were a few confusing intersections, so the journey took an additional hour to get there compared to what my return ride would be.  I felt a sense of relief and excitement upon arriving at Wolf's Lair, and then had some much-needed respite by just watching people scurry about at the entrance and me recharging with some snacks.  There must have been over a thousand people there who had come by car, motorcycle or tour bus.  Wikipedia tells us that about 300,000 people visit annually.  Covid hadn't slowed down the curiosity it seemed.  Surprisingly there weren't any English tours scheduled for the day since most people were primarily speaking Polish and German, but that was fine with me.  I was happy to explore on my own since I figured the tours would mostly focus on Hitler and his men rather than the enormous structures I wanted to marvel at.  The entrance map of the grounds was a cartoon looking guide indicating that…. Men slept here.  They planned their attack strategies there.  The cinema was at site number X.  And here was where one of the infamous assassination attempts of Hitler took place and failed.  That highly viewed movie with Tom Cruise called Valkyrie was based on what was to have happened here.  The map also shows a rather big forest surrounding the area, and a railway going through the middle.  However, I don't recall walking on or along any tracks on the grounds.   The 3 airplane figures on the map help in creating a more believable storyline and set the ominous mood before venturing on in!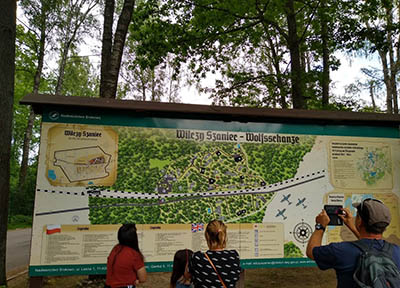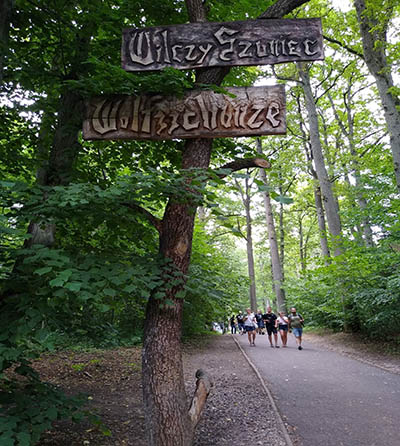 I lost any interest that might have lingered in my mind for learning about the Hitler drama at this command post once I saw the gigantic boulders appear along the pathways.  I couldn't believe for a second that they would have only needed a years' time to build these megalithic sites.  Then we are told that they dynamited these structures to obscure evidence of their war secrets? Ridiculous!  It would have been so much easier to take their war plans, maps and any office machines with them in their trucks or fancy cars.  Or easily burn them like they burned books during the war.  What a waste of money, energy and time to build and then destroy!  However, I could see that the destruction of this place, like others around our world, had nothing to do with hiding secrets of war.  This place was primarily about the controllers of our world trying to eradicate evidence of a civilization before us.   And what a better way to do that than to divert our attention to a story around evil men rather than asking obvious questions of, "Hey, how did they build these, and why would they need to blow everything up?"   It didn't make sense!
When I finally heard a couple speaking British English to each other, I asked what they were learning from their German tour.  They were eager to tell me something beyond what was written on the displays throughout the grounds.  It was about what the SS and Goebbels were doing in this area.  I was listening for some pause in their information before asking them if the guide had said anything about how they built everything here.  They said no, but it would have been quite easy for the Poles to do it.  "Would it have been?"  I asked with a surprised look on my face.  "Weren't the Poles half-starved?  And what kind of machinery would have been used in such a remote area back then to move or create all these massive sized boulders?"  "Well," he responded with a moment of thought.  "You know how handy people are here in Eastern Europe.  They could have done it."  Then they just shrugged their shoulders and walked on to catch up with their group.
I hope you can gauge from my photos how big these structures are.  Notice the thickness of the concrete and the numerous metal rods and beams amongst them.  Wolf's Lair is 2.5 square miles, and tourists don't have access to the whole area.  But the at least 20 sections of various sized boulders we could see were enough to show the magnitude of the structures in this place.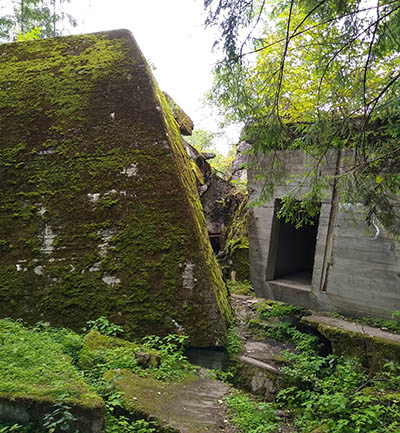 Wolf's Lair shook me with amazement close to the Pyramids and temples of Egypt, the Parthenon and Acropolis in Athens, the cathedrals in Peru, and the ancient cities in Turkey.  Mind-blowing!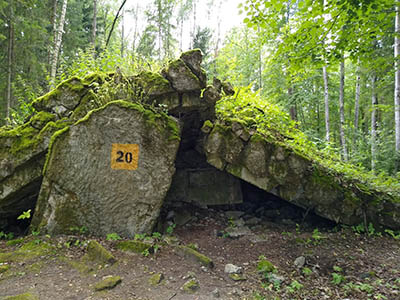 It wasn't until a few months later after leaving Wolf's Lair that I finally started to find people on YouTube examining megalithic structures and beautiful architecture around our world while also theorizing about their origin and purpose.  Like me, they knew we were not being told an accurate story about the world we live in.  What these researchers have been suspecting in their online group discussions would cause me to repeatedly gasp in confirmation that something wondrous had been going on!  These structures, along with many of our awe-inspiring cathedrals, castles, palaces and government buildings, were part of some ginormous motherboard power grid that gathered energy from up in the ionosphere and distributed it in different ways throughout our world.  The spires, colored metal turrets, towers and domes on structures would capture and vibrate the energy within the buildings.  The metal rods and beams pervasive throughout the concrete, as was readily exposed in the destruction at Wolf's Lair, served as conductors of the energy received from the ionosphere, and perhaps specifically the massive stone structures stored the energy before its distribution.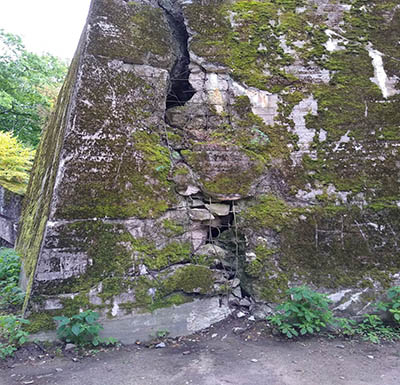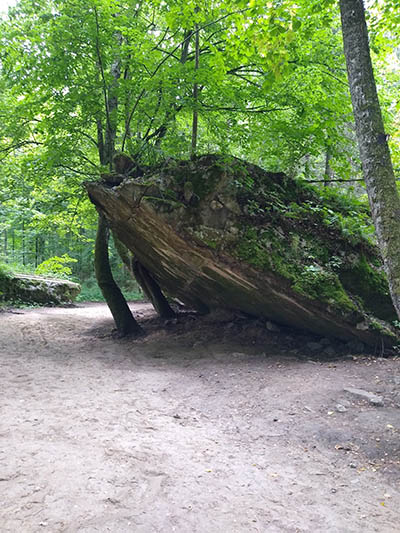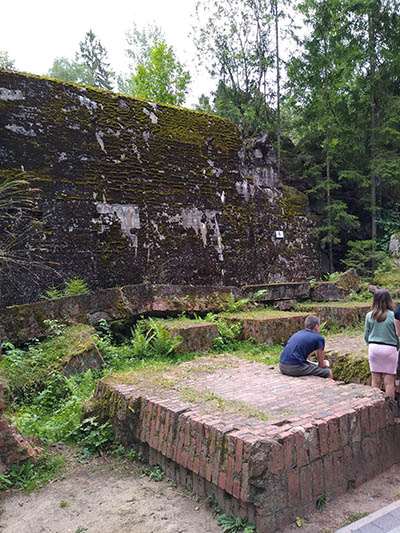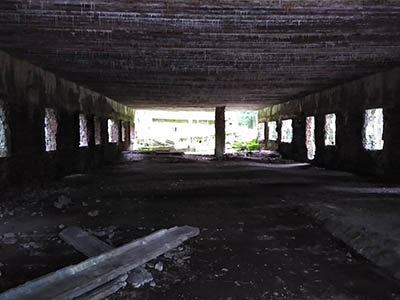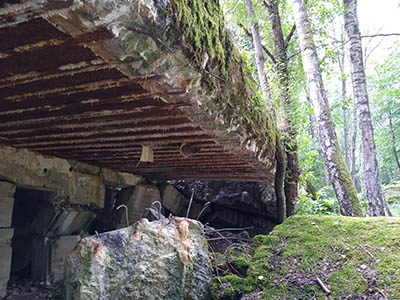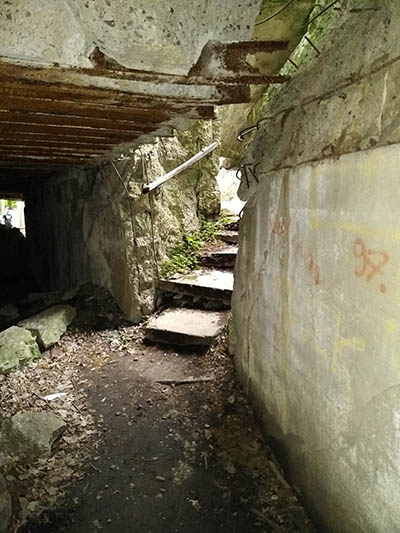 Another important part of this massive grid was water, which is oftentimes around these structures.  Water would become energized and then transported to nearby communities.  Can you imagine drinking water of a higher vibration to improve our mental and physical health?  We have different kinds of water available to us for doing just that today.  Pools of water from fountains, moats and waterways were also figured to cool down the grid stationed at most of these sites.  Perhaps there was more water in the Wolf's Lair area before, and it was drained.  Could it have been positioned in a beautiful geometric shape like this remote and massive star fort that also appears drained of water.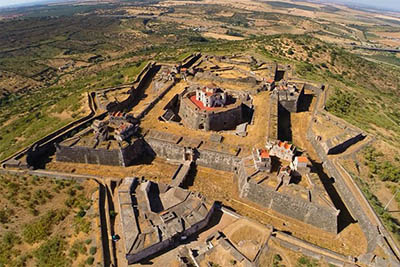 *Google Images
The explanation I'm giving for this power grid involves so much more than I have described here.  So don't let the default programming kick in too soon, and you dismiss it.  This is a wondrous mystery to unravel and imagine.
The exit area at Wolf's Lair involved an interesting building inserted amongst the boulders and touristy construction projects to come.  It was a huge thin metal warehouse type building easily and cheaply set up for selling souvenirs and viewing cardboard, human-sized images of Hitler and his men.  It seemed more likely for such a building to have been erected during the war than all the boulders in the area.  There was a scenario of these evil men leaning over a table making war plans.  The story-line seemed like a final attempt to implant an image in our minds for what should be remembered by us as we left.  It looked so fabricated and laughable that I didn't even bother to take a picture.
When we can question coverups like the one here at Wolf's Lair, we move beyond the mind-numbing narrative perpetuated around consumerism, Hollywood, political drama, pharmaceuticals, etc.  Part of the revealing that is happening in our time involves learning about WHERE we are.  It's a glorious revealing, and as our minds become unveiled, we can then see more of the truth, beauty and wonder on our Earthly realm.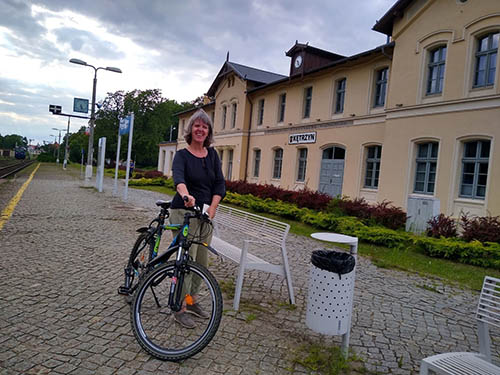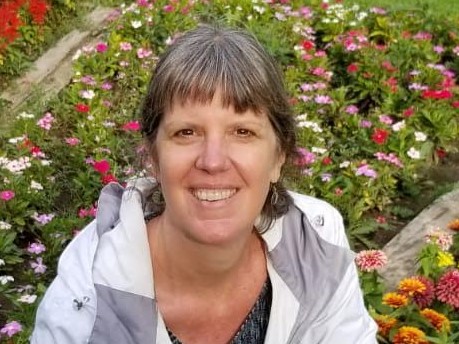 Deanne Kaye has been on the healing path for over 30 years. She has explored traditional and alternative ways for healing and has been helping others since 2015 become free from such emotions as abandonment, shame, guilt, anger, self-loathing, fear, resentments, addictions and anxiety.  She provides experienced guidance, step by step work, meditation practices and a space of trust and presence for releasing unhealthy thoughts, emotions and limiting beliefs. Well-Being Coach, Intuitive Healer and Deprogrammer
For More Info or to Book an appointment – https://newagora.ca/the-way-out/