Oddyssey of Truth – Escape to Freedom – Episode 1 – Dropping Baggage

&

Baggage, Baggage, Baggage. The obvious physical constraints of carrying  heavy bags, I would say, is the easiest to understand in relation to needing to 'lighten the load' for long journeys. And yet, it can be the 'invisible' parts of said baggage which weigh us down the most.
Those bits that are hidden from us. The Metaphorical Baggage we all carry. Beliefs, duty, obligation, promises, past Experiences of what's possible and not and the like. These niggling doubts and fears that can 'eat' at our confidence when it comes time to create new pathways for ourselves.
For me, on my 'Escape to Freedom', it was the inner baggage which weighed much, much more than the physical, obvious bits. Almost infinitely so. The trick I found, many years later, was to discover that as I learned to drop my 'inner bagger', the outer naturally got lighter by itself.
The more powerful and loving I knew myself to be the less I felt the need to 'carry any extras' with me. In other words, the more I trusted my personal power would supply all of my needs the less I needed to burden myself with.
Please Join Cambell and I on this new part of our Journey. Escape to Freedom.
In Episode one, we work our way through an obviously poor internet connection caused by a storm on his end. Which, of course, we all must be prepared for on our Odysseys. Those storms will come, and with less baggage, we are less likely to sink in the winds and gales of challenge.
Future Episodes will go deeper with invited guests, sharing their unique perspectives on 'Escaping to Freedom.  I am delighted to announce for Episode 2- A good friend QuietBear, will be joining us to talk about the requirements of 'intent' for any successful 'Escape'.
Please like and follow for upcoming video presentations 'too hot for You Tube'.
https://odysee.com/@theNewNOW:9
To Join our Email List… www.tinyurl.com/3bbuj3z2
For my In Love Unlimited – Heart Counseling Services https://newagora.ca/in-love-unlimited..
Our Merchandise Store… https://thenewnowlife.bigcartel.com/
Freedom Shift Your Life  http://www.freedomshift.life/
Main Image –  'Break Free' by Tessa Mythos  https://www.artbymythos.com/visions-2013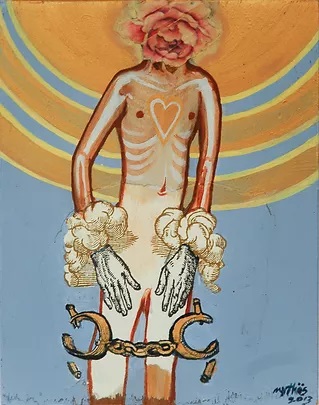 https://www.artbymythos.com/about
–   Come Like Us on Facebook  –  Check us out on  Instagram  –
– Sign Up for our Newsletter  –