The Power of New Beginnings
with QuietBear and Lorenzo
We are, all of us, living in a dream. With get offered plenty of direction, good and ill, asked for and not. And yet, I would say, every bit of it is by our own making. That is our life, as it unfolds, is fully our responsibility.
We create the day to day of our lives. All of it, I would say. And yet, most choose to follow what they've been told never realizing they have the power to choose again. Not fight the dream, or circumstances they dislike or hate, but to make a new one.
In other words, they have the power for their New Beginnings. For me, it begins with intent. The intent to see clearly and choose wisely. The intent to access my own power so I may power my new beginning any way I choose.
I hope you enjoy this 'powerful' chat with QuietBear, as we continue our series of chats on life, love and much more besides.
As Bear would say….in Strength.  Bear and Lorenzo
QuietBear Bio:
QuietBear is Michael's given Shaman name, which he has gone by since receiving it, following his intense seven years of training starting in 1989 in the 13,000+year Shamanic tradition of the Twisted Hairs Elders of Turtle Island (https://theforceiswithinyou.forumotio…).
For half that time he lived in the wilderness of the mountains and deserts of Arizona. In 1996 he completed his training and left, with his Teacher, SwiftDeer's blessings, to do his work. In keeping with that training, he constantly studies and learns: that's the warrior task for every Twisted Hairs shaman, to always learn and grow by studying the self and other selves we meet on our life path. Because of his training, QuietBear knows the true human nature, and therefore believes that none of us needs a "savior". Our true human nature is our gift and grace to develop and use our own power, a gift from Creator that He intended us to use to its fullest potential in order to protect ourselves and to achieve our true greatness.
To Inquire about working with Bear please email both at the same time to assure they get your request.
quietbear55@gmail.com and alecramzurc312@gmail.com
—-
More of what we do… https://newagora.ca/
For my In Love Unlimited – Heart Counselling Services https://newagora.ca/in-love-unlimited…
Our Merchandise Store… https://thenewnowlife.bigcartel.com/
Contact us to help Freedom Shift Your Life https://odysee.com/@Oddyssey:0/Freedo… http://www.freedomshift.life/
To Join our Email List… www.tinyurl.com/3bbuj3z2
If not yet, please come and 'follow us' on Odysee. Far too much censorship to share all we would love to, with you, our lovely viewers.
https://odysee.com/@theNewNOW:9
Questions, Suggestions and to Participate.  info@newagora.ca
Main Image(s) Patrick Ennis. https://www.patrickennisart.com/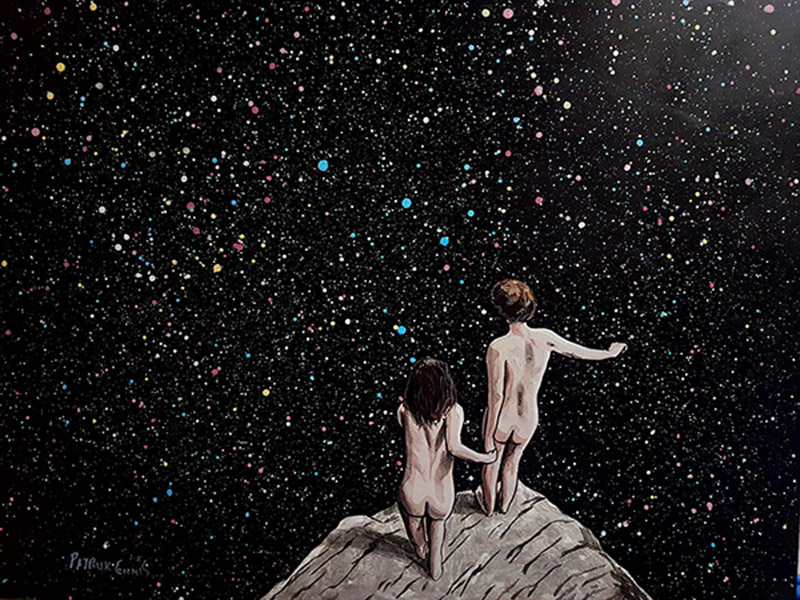 Lastly, we'd like to share an appropriate poem, by Marcela Cruz-Gibbons,  related to today's discussion:
Clarion Call
The landscape of reality these days
Is littered well beyond the natural realm
Of expectations, needs and ways –
And daily feeds us overwhelm.
Facts stand firmly on their own two feet.
And yet, we have become obsessed
And trade, for comfort's sake, defeat
Of heart and mind with which we are blessed.
The very life within us calls,
A whispering voice of urgent plea:
Awaken, now, tear down the walls
To tame the fears, to set us free.